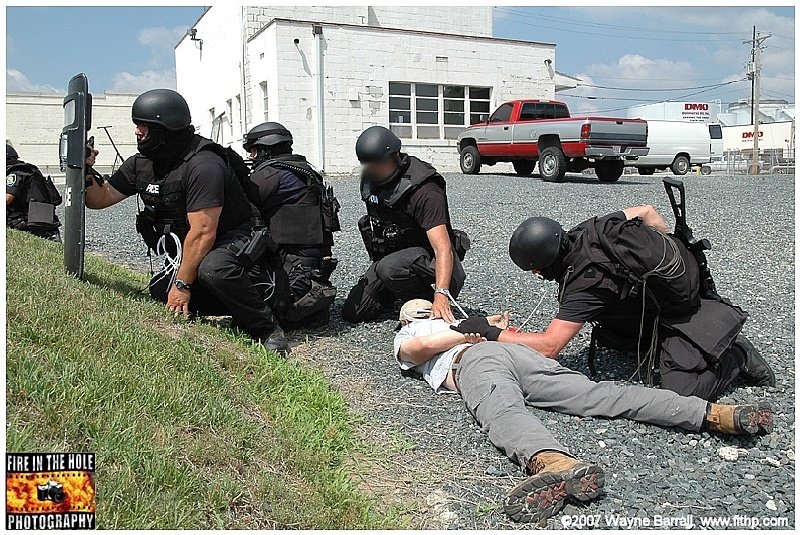 6/13/2007 – Some faces have been digitally altered to keep the identity of the undercover police officers confidential.
At 0900 hours the Salisbury Mutual Assistance Group (SMAG) conducted the annual drill on the Wicomico River. The Salisbury Mutual Assistance Group is made up of the Petroleum Industry in Salisbury and that operates on the Wicomico River. All participants arrived at CATO around 0800 for an informal meet and greet. At 0900 the briefing began for the drill, on today's date a barge was scheduled to arrive and to start off loading of low sulfur diesel fuel, the vessel had been attached and had started to off load product when another vessel came by the wake from the second vessel which was pushing another barge disrupted the flow by dislodging the main off loading line this was due to several yards of slack line being present. In addition to an individual had boarded the tug and was holding the crew of the vessel hostage.
Participants included Salisbury Fire Department, Salisbury Police Department, Wicomico County Emergency Management, Wicomico County Sherriff's Office, Maryland Department of the Environment, Vane Brothers, Delmarva Oil, Nu-Star, Cato, US Coast Guard.
Several objectives were established to be evaluated one of the items was to be how the Petroleum Industry would interact in a Unified Command System. The other was to check the facilities security plan and to make recommendations. The drill was conducted with all facets going very well, Captain Gladwell was the Incident Commander for the Salisbury Fire Department. As always we were able to learn from drills as such with the conclusion being a tour of the tug from Vane Brothers. This served as a valuable learning lesion for all members of the Fire Department and Police Department. A photo was taken afterward to show the unity between Salisbury Fire Department and the Salisbury Police Department.
As always it is the intention of the Salisbury Fire Department to operate with all agencies in a very professional way and we wish to thank all the participants that participated in the drill.
Photographs by : Wayne Barrall