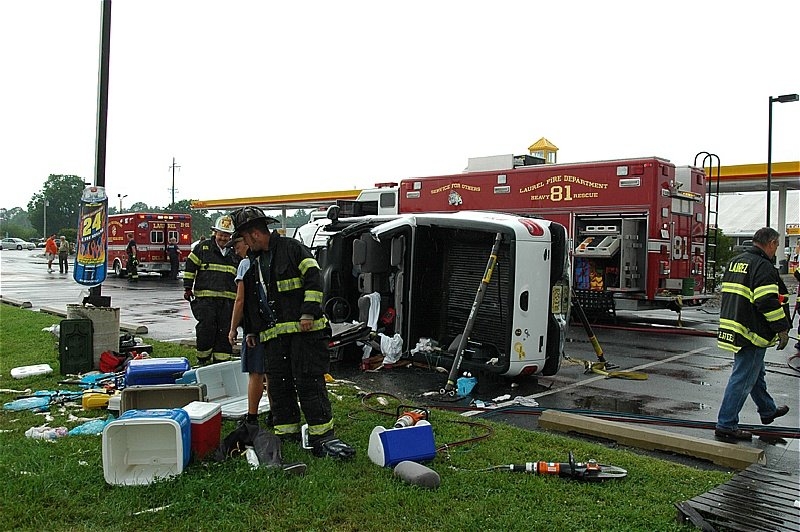 7/10/2007 – At 14:53 hours the Laurel Fire Dept along with SCEMS Medic 102 were dispatched for a MVA with subjects reported trapped at the intersection of Sussex Hwy and County Seat Hwy. Asst. Chief Steve Brittingham (81-16) responded in 81 command and was advised by EOC of possible entrapment.
Command arrived on scene to find a single vehicle on its side in the parking lot of Bargin Bills. B-81 arrived on scene and began patient care. The crew from B-81 advised command of three subjects trapped with one under the truck. Command contacted EOC and requested two additional BLS units to the scene and an Ambulance cover up to station 81. Rescue 81 responded under the direction of Asst. Chief A. Schweitzer (81-17). Command advised R-81 to prepare for extrication of the three subjects. R-81 arrived on scene and the crew stabilized the vehicle and began extrication. E81-2 arrived on scene under the direction of Asst. Chief M. Lowe (81-18) and assisted the crew from R-81. Crews removed the patient from under the truck, and then were able to do a partial roof flap to extricate the other two patients.
A total of three patients were transported to NMH. Command placed situation under control at 15:32, last 81 units were clear at 15:57.
Photographs by : Wayne Barrall