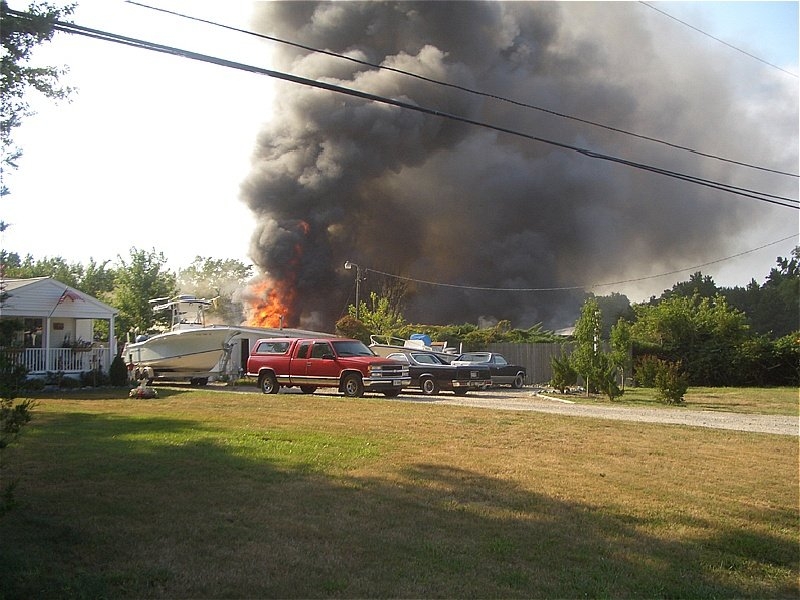 7/24/2007 – At approximately 1714 hours the Worcester County Emergency Operations Center began receiving multiple calls reporting a building fire on Racetrack Road in the are of Ocean Downs. The box alarm was transmitted immediately after, alerting a full response from Berlin, one engine from Ocean Pines, one tanker from Showell and two tankers from Ocean City.
Assistant Chief Derrick Simpson reported a heavy column of smoke from the area of Barrett Chevrolet. An updated address of 10307 Racetrack Road, Planted Pleasures, was relayed to all responding units.
First arriving Chief Derrick Simpson reported a 30 ft x 300 ft commercial building with heavy fire conditions in the front of the structure and established "Racetrack Road Command." This structure was a chicken house that had been converted to a plant nursery. Initial engine crews mounted an aggressive attack using 2 1/2" preconnects. A tanker shuttle was placed into operation with the use of portable tanks. Command requested a second alarm for manpower. A secondary water supply was later established through drafting from the Turville Creek Bridge.
The State Highway Administration was requested to assist with shutting down Route 589 due to the number of fire personnel and vehicles in the area. Crews noticed that a brush fire began to spread north of the building fire into the woods.
Trooper 4 was requested to fly over the area and advised of fire conditions in the woods. Upon their arrival, crews had the woods fire contained. While operating on the scene, 2 firefighters were transported to AGH for heat exhaustion. First Assistant Chief Engineer Michael Hickman was assigned Operations, Ocean City firefighter Bob Rhodes was appointed to Safety Officer, Ocean City Third Assistant Chief Bryant Bunting was appointed Water Supply, Worcester County Emergency Services Assistant Director Fred Webster was Accountability, and Ocean City Emergency Services Lieutenant Chris Schaffer was the Medical/Rehab Officer.
Units on the scene used an estimated 200,000+ gallons of water to extinguish the fire. Units operated on the scene until approximately 2039 hours before returning to service. Showell Engine 803 provided a standby at Berlin Fire Headquarters during the fire.
A special thanks goes out to all who helped out with this fire on such a hot day!
Units on Scene: Engine 604, Engine 608, Engine 607, Tanker 605, Brush 602, Tower 6, Rescue 6, Truck 603, Engine 1102, Rescue 11, Engine 701, Engine 702, Engine 703, Tanker 719, Tanker 720, Canteen 725, Tanker 805, Tanker 502, 600 A-1 and A-2, MSP Trooper 4 and State Highway Administration.
Photographs by : Dave Colman