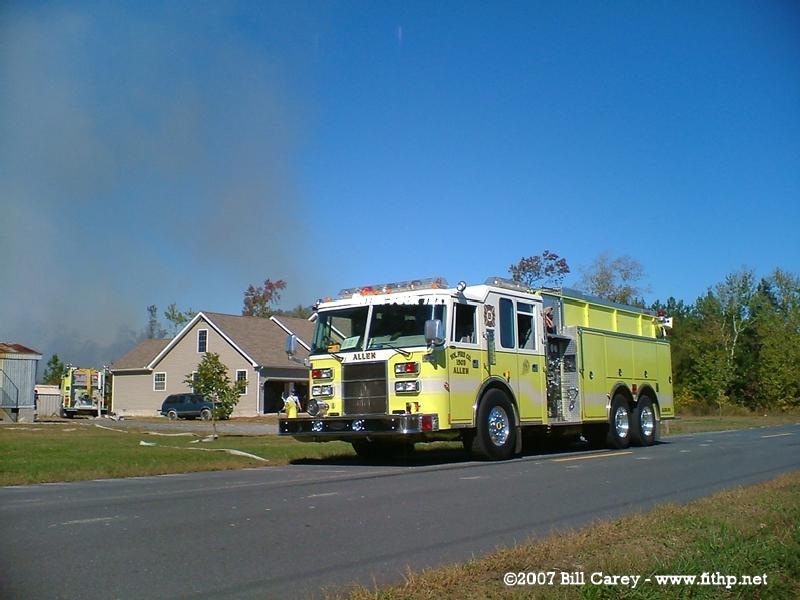 10/21/2007 – Mutual Aid Woods Fire, Princess Anne
On Sunday, 21 October 2007, Wicomico Central alerted Station 15 (Allen) to assist Princess Anne, with the brush truck, on the woods fire in the area of Backbone Road and Seatick Road.
Engine Tanker 1503 also responded after being special called to the scene as well as a tanker from Fruitland (Station 3). First arriving crews found an outside rubbish fire in the rear of a residence that had extended into a thick area of brush and woods.
Personnel from Princess Anne and Allen stretched lines off of Brush 15 and two of Princess Anne's engines, knocking down the fire in the open and advancing as far as possible into the wooded area, while Engine Tanker 1503 stood ready to supply Princess Anne Engine 511.
Due to the dense vegetation, an accurate picture of the burning area was not immediately known. Command requested additional manpower from Princess Anne, Allen and Fruitland, as well as a flyover by the Maryland State Police. Engine 1502 responded and was directed to locate access to the fire from a service road or residence off of Flower Hill Church Road, in the fire's advance. Access was found along a long road that ended up at the front of the fire alongside a wide ditch.
The crew from 1502 worked their way into the woods to check the fire's advance, flanks and speed. Special requests were made for a brush truck from Station 1 (Salisbury) and a tanker from Mount Vernon (Station 6, Somerset County). These companies were assigned to meet and work with Engine 1502. Despite being driven by the wind, the fire was progressing relatively slowly.
The plow from the Maryland Department of Natural Resources was brought in and made a break in front of the advancing fire. With the fire now contained as well as being knocked down off of the Backbone Road side, Command began scaling the incident down and placing units in service.
According to Maryland Department of Natural Resources' statistics, debris burning is the second largest cause of wildfires in the state, behind arson.
Photos by Bill Carey