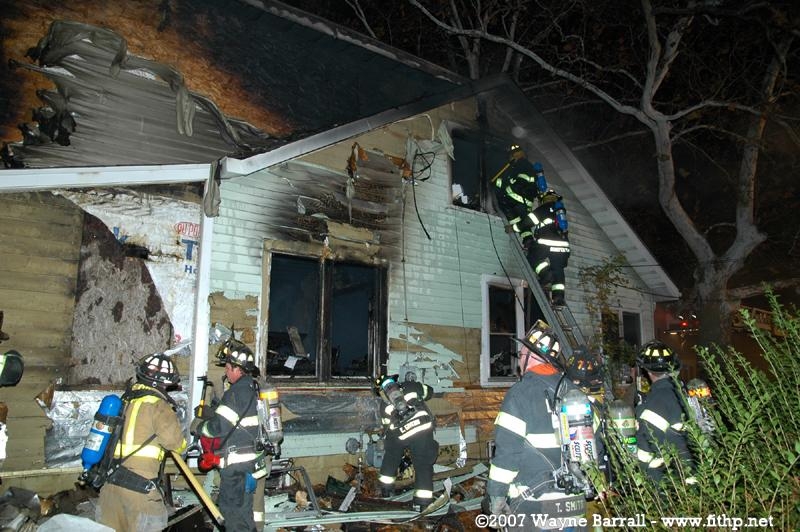 12/7/2007 – On 11-23-07 at 2039 hours Seaford center dispatched station 87 while Sussex dispatched station 71 and Medic 107 for a structure fire at 16 Front Street Ext. Command with 15 went en route and arrived on scene to find heavy smoke and fire showing from the structure side c. 87-2 arrived on scene and the crew took in the attack line in and started fire suppression. 71-9 arrived on scene and assisted with fire suppression. 87- Command then asked Sussex to alert Station 81 and Station 72 to come to the scene and to dispatch station 100 for stand by at station 87. Station 78, 74, and 77 were dispatched to stand by at 81, 71, and 72. 81, 71, 87, 72 crews then did ventilation, roof operations, over haul. B-87's crew conducted rehab. Two Firefighters were taken to the hospital just for precautionary measures both returned home later that night after evaluations. FM units were dispatched. FM units arrived on scene and started investigation. All 87, 71, 81, 72's crews packed up all hoses and crews returned to their station by 2330 hours. FM units say that the house received heavy smoke and fire damage. The FM units determined the blaze originated in the ceiling of the northwest corner room and was caused by an electrical malfunction. SVFD Ladies Auxiliary served food and drinks to all fire fighters. Damages are estimated at $85,000.
Units on Scene: 87-2, 87-5, 87-6, 87-9, 87-7, 71-9, R-71, R-87, 72-9, T81, 81-3, T72, 72-4, T71, R72, 71-5, 81-4
Stand By Units, Station 100, 77-3, 78-4, 74-1, 78-10.
Photographs by : Wayne Barrall