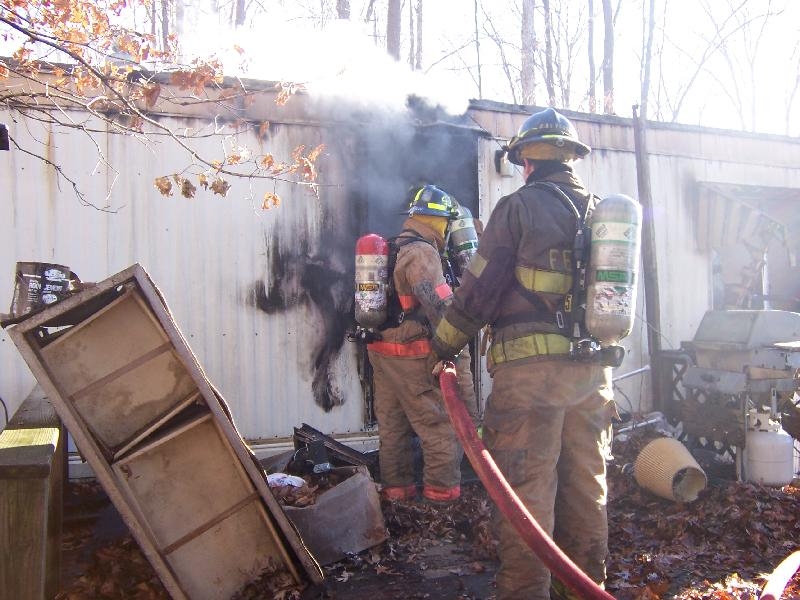 12/24/2007 – At 0846 hours Kent E.O.C. alerted Station 48 (Felton) & Station 41 (Camden) for a reported trailer fire in the 600 Block of Ironmine Road. After dispatch units were advised to operate on Tactical Channel 4. This confirmed it was a working incident.
Engine 48-1 responded with a crew of 6 under the direction of Past Deputy Chief J. Moxley. Engine 48-1 arrived on scene a found a single wide trailer with heavy smoke showing, a 5 inch supply line was dropped at the end of the driveway.
The crew from Engine 48-1 advanced an inch & ¾ hand line into the structure and began the primary search. Engine / Tanker 48-5 arrived and supplied Engine 48-1. The crew from the Engine / Tanker began ventilation and pulled a second line and advanced it to the rear of the trailer. Once inside crews found heavy fire in the rear portion of the trailer. Engine 41 arrived and began in assisting in fire suppression.
It took approximately 35 firefighters about 35 minutes to have the scene under control. One firefighter was transported to the hospital with minor injuries.
Units Responding: Engine 48-1, Engine / Tanker 48-5, Engine 48-3, Engine 48-2, Utility 48-8, A-48, Engine 41-3, Tanker 41, DSP, DSFM, 48-Fire Police
Photos: Felton Fire
Story: Ryan L. Whittington