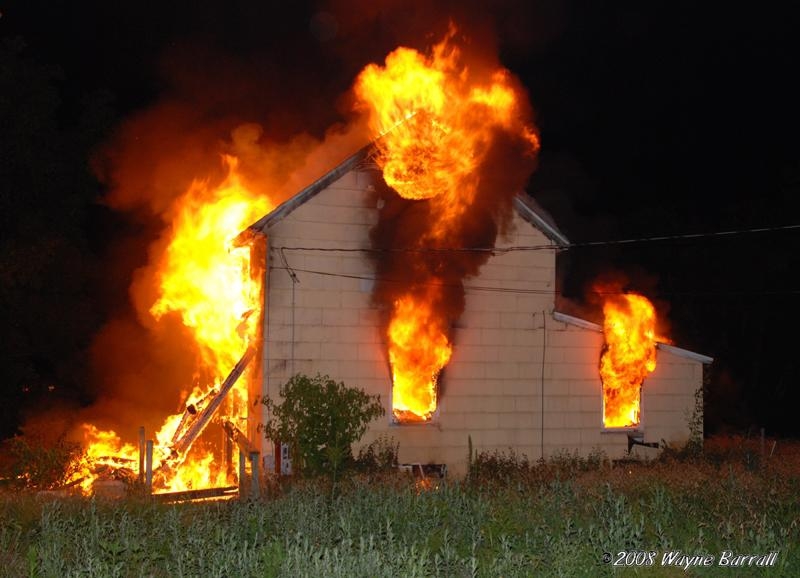 7/14/2008 – At 1:56am fire crews from Sta.74 Delmar, Sta.81 Laurel and Sta.79 Gumboro were alerted for a structure fire on Old Stage Rd just south of Whitesville Rd in Delmar. Medic 102 was the first arriving unit to find an abandoned house with heavy fire coming from side A. 74 Command arrived and established Old Stage Rd Command and advised incoming units off the situation and told them to protect a 1000 gallon propane tank close to the structure. Crews held a defensive attack mode to protect firefighters from the risk of injury. The alarm was put under control at 3:22am.
This is the 10th suspected arson fire in the Delmar / Laurel area. The Delaware State Fire Marshal's Office is investigating all of these fires. If anyone has any info please call them at 302-856-5600.
Responding units:
74 Command, 81 Command, Paramedic B-74, Medic 102, FM-4, FM-10, Engine Tanker 74-2, Engine 81-2, Engine 79-1, Engine 81-4, Traffic Control 79, Tower 81, Truck 74, Tanker 79-3, Rescue 79 and Tanker 74.
Photographs by : Wayne Barrall