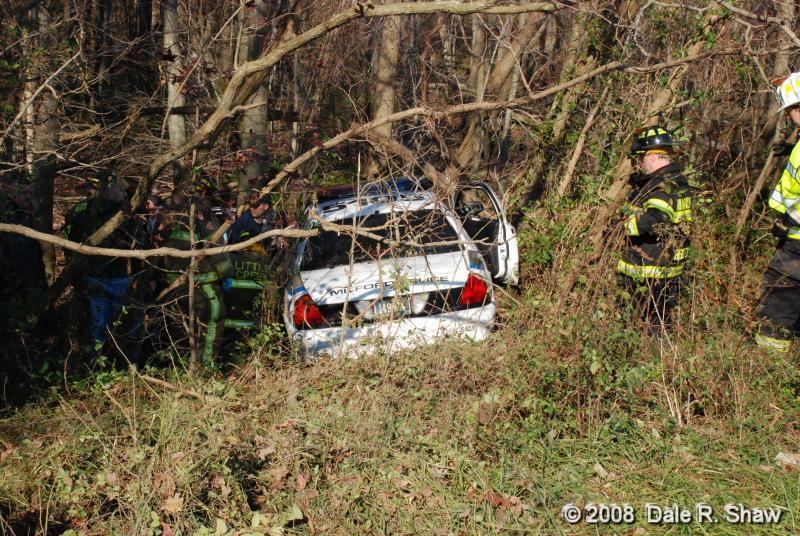 11/26/2008 – Story from The News Journal, By Terri Sanginiti
A rookie Milford police officer in a marked patrol car sideswiped a car today on northbound Del. 1 in Kent County before traveling another mile and a half, running into a field, veering across the highway into the southbound lanes and coming to rest in a wooded area, state police said.
The crash snarled traffic in both directions for more than two hours between Dover and Little Heaven.
State police spokesman Sgt. Joshua Bushweller said the crash occurred shortly before 11 a.m. when a marked 2007 Ford Crown Victoria driven by a uniformed Milford police officer — now identified as 23-year-old Jay Davidson — sideswiped a northbound 2007 Kia Spectra in the left turn lane at Clapham Road in Little Heaven.
Bushweller said the patrol car continued north, crossed over the Barkers Landing Bridge on the St. Jones River before running off the east edge of the roadway into a field, Bushweller said.
After several hundred feet the car re-entered the roadway, crossed the northbound lanes and center grassy median into the southbound lanes, where it ran off the west side of the road and came to rest in a wooded area.
Davidson, who Milford police said has been with the department more than a year, was wearing a seat belt and suffered only minor injuries.
He was treated at Kent General Hospital for unspecified minor injuries and released, according to Milford police..
Bushweller said it is believed Davidson suffered some type of medical emergency that triggered the crash, which is still under investigation.
Davidson has been placed on administrative leave pending resultrs of the investigation, Milford police said.
The driver of the Kia, Catherine A. Yaeger, 20, of Harrington, was also wearing a seat belt and was not injured.
Southbound traffic was detoured at the Puncheon Run Connector (Exit 97) to U.S. 13 and northbound diverted at Little Heaven.
Contact Terri Sanginiti at 324-2771 or tsanginiti@delawareonline.com.
Photos By: Dale Shaw