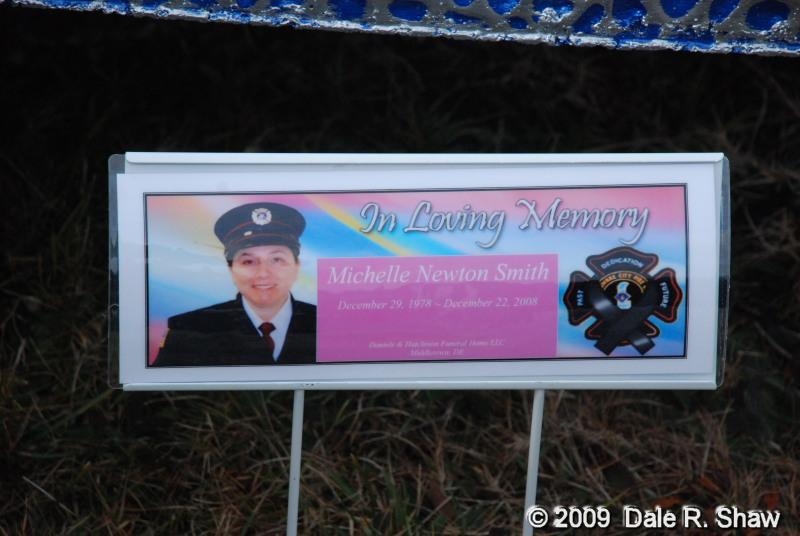 1/5/2009 – On Monday, January 5, full honors services were held for Delaware City Firefighter Michelle L. (Newton) Smith, who died on December 22, 2008 from injuries sustained from being struck by a vehicle while rendering aid to an injured motorcyclist on the night of December 20 in New Castle.
The funeral services were held at the Delaware City Fire Company, followed by a procession to Odd Fellows Cemetery in Smyrna. The procession included 135 fire and emergency services vehicles from throughout the region and stretched for five miles. It passed under an arch formed by Wilmington Manor Fire Company's Ladder 28 and Christiana Fire Company's Ladder 12 at US Route 13 and Delaware Route 72. The Wilmington Fire Department's Fireboat 7, "Firefighter", was stationed in the Chesapeake and Delaware Canal and flowing all of her monitors as the procession crossed the William V. Roth, Jr. Bridge. Delaware City Fire Company's Ladder 15 and Volunteer Hose Company of Middletown's Ladder 27, from the two companies that Michelle served with, formed the arch as the procession entered the cemetery.
Services at Odd Fellows Cemetery included bagpipes and drums from the Camden County Emerald Society, New Castle County Public Safety, and Delaware State Police; a rifle compliment from the New Castle County Police; buglers from the Wilmington Fire Department and New Castle County Police; the "Bells of Remembrance" from Brother David, a past chaplain for the Wilmington Fire Department; and a flyover by the Delaware State Police Aviation section.
Fire In The Hole Photography would like to thank the people of the Delaware City Fire Company for allowing us the access and privilege to document the honors for Michelle.
Photos by: Dale Shaw and Brian Slattery