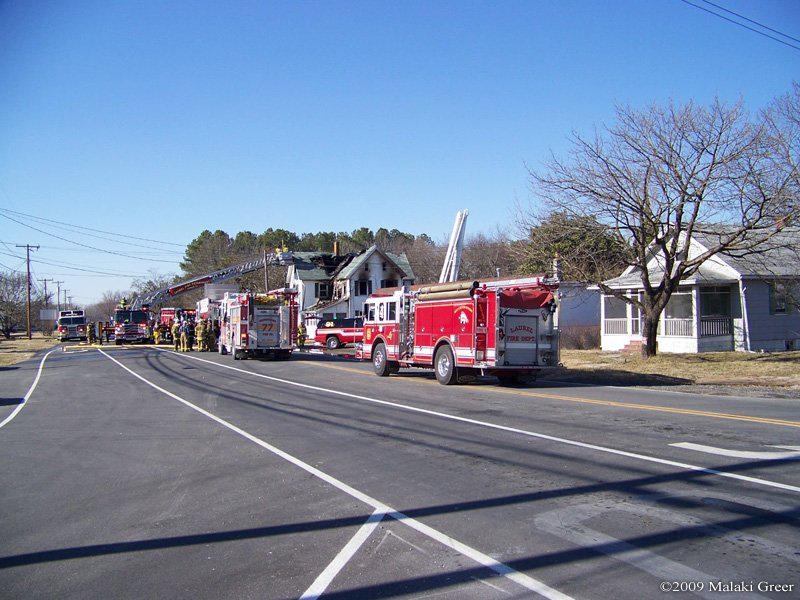 1/22/2009 – Updated with more photos
At approximately 9:45 a.m. a Fire Officer from Greenwood Fire Company was traveling Sussex Hwy. and notified EOC of a house fire. LFD along with Delmar, Sharptown Fire Departments and Medic 102 were alerted for a house fire on E. Fourth Street at the intersection of Sussex Hwy. 81 Command responded with Truck Capt. Jason Boyce. Chief Steve Brittingham was in the area and reported a large 2 1/2 story wood frame structure with heavy smoke evident. Chief Brittingham was advised occupants were not at home but there were 2 dogs in residence. Chief Brittingham forced the rear door of structure open with one of the dogs exiting. Boyce arrived on scene and assumed Command making Brittingham Operations Officer. Eng. 81-2 responded with Capt. Donnie Layton as officer. Crews made entry and found heavy fire conditions. Past Assistant Chief Schweitzer was able to locate the other dog on entry to structure and returned it to a safe area. Eng. 74-2 arrived from Delmar with Asst. Chief Darin Scott and assisted with the attack. Tower 81 set up in front of the Structure. Brittingham passed Operations to Capt. Dwayne Chaffinch. Truck 14 arrived with Deputy Chief Billy White and set up at the rear of the residence. With the second story stairs burned away and the roof unstable, crews were unable to do an interior attack on the second floor. Officers then decided to utilize master streams for the second floor knock down. Eng. 1402 arrived from Sharptown and made a 1500 ft. lay of 5in to the corner of King Street and supplied the aerial operations. Command requested further assistance from Seaford and Blades Fire Companies. Georgetown was alerted to stand-by at Laurel and was soon diverted to the scene. Stand-bys included Mardela Springs at Sharptown, Seaford at Laurel, Hebron at Delmar and Millsboro at Georgetown. Crews remained on the scene until almost 15:00 hours.
Story from Laurel Fire Department
Units on Scene: Engine 81-4, Command 81, A-81, Tower 81, Engine Tanker 81-5, Engine 81-2, Engine 77-2, Engine Tanker 74, Rescue 74, Engine 71-9, Engine 14-02, Engine 14-04, Truck 14, Utility 14-01, Sussex County EMS 102, Fire Police. Seaford also responded, but cleared when they had their own fire call. If any peices of equipment were missed, please shoot a mail and I will get it fixed..
Thanks