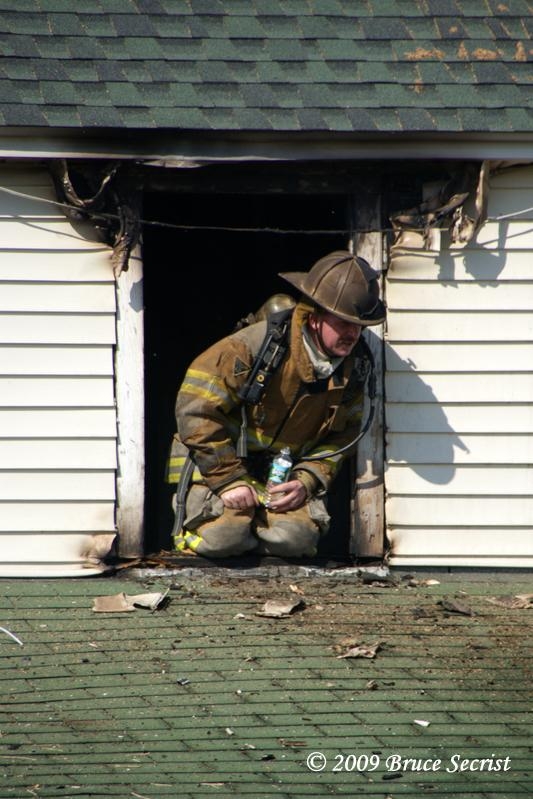 3/22/2009 – On Sunday morning the Sudlersville Fire Company (Queen Anne's County Station 6) along with Crumpton (QAC Station 7), Community Fire Company (Kent County Md. Station 2), and Hartly (Delaware Station 51) conducted a fire drill at 400 Cemetery Road. The drill consisted of a large two story farm house and a small pump house. There were several live fires set in the house to allow firefighters to practice interior attacks. While they were practicing in the house, several line officers were assisting the cadets with their own live burn in the small pump house. Without putting the cadets into any danger this gave them a good chance to work with the hose line and do some firefighting, which will be valuable training to prepare them for the future. After practicing for about two hours the house was lit and let go.
Units on scene: (Sudlersville) Chief 6, Brush 6, Utility 6, Quint 6, Tanker 6, Rescue 6, Engine 64, Ambulance 60, (Community Fire – Millington) Tanker 2, Engine 23, (Crumpton) Utility 7, Engine/Tanker 7, and (Hartly) Brush 51-0
I would like to thank Chief Buck Clough and Lieutenant Chris Stant for the invitation.
Photographs by : Bruce Secrist