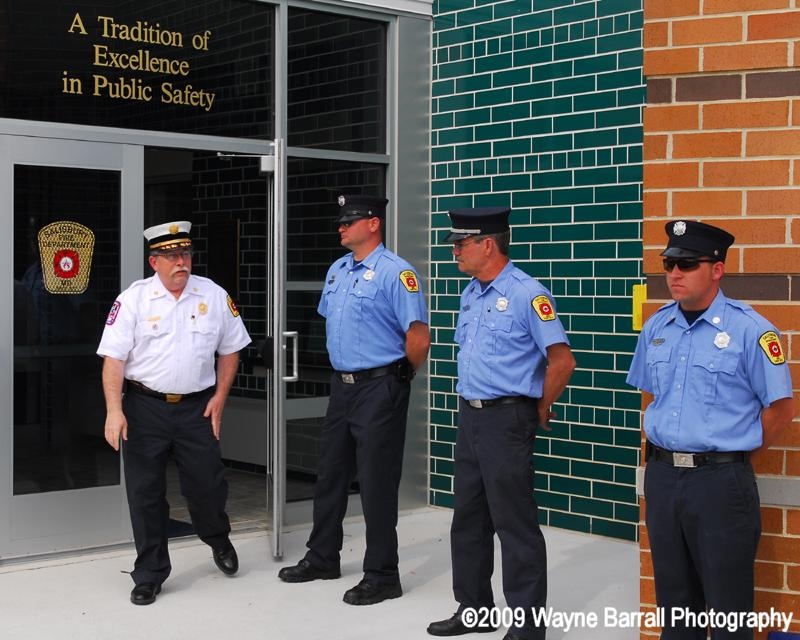 4/30/2009 – The City of Salisbury Fire Department announced that Salisbury Fire Chief David B. See will retire effective June 30, 2009, after 30 years of service.
Chief See began his career with the City of Salisbury on July 1, 1979 as a Probationary Firefighter. He served as an operational firefighter in various assignments and for several years as an administrative assistant. In March 1992 he was transferred to the Department's training facility to serve as its first full time career training officer. He was promoted to the rank of Fire Lieutenant in July 1993 while serving there. In January 2000, he was promoted to the rank of Fire Captain and transferred to Fire Station #2 as a company officer. In October 2001, he was promoted to the position of Deputy Fire Chief. After the sudden resignation of Chief Steve Brezler in April 2003, Mayor Barrie Tilghman appointed See as Acting Fire Chief until a permanent successor was appointed. Mayor Tilghman subsequently appointed him to the position of Chief of the Department in December 2003.
Chief See also served as an active Maryland Fire and Rescue Institute (MFRI) emergency services instructor for 18 years and holds numerous state and national emergency services certifications.
Chief See currently serves as a Board Director-at-large on the International Association of Fire Chief's (IAFC) Volunteer and Combination Officers Section (VCOS). His organizational memberships include the Delmar Volunteer Fire Department, Inc. (Active) and the Salisbury Fire Department, Inc. (Honorary), and active status with the Maryland State Fire Chief's Association (MFCA) currently serving as its Treasurer, International Fire Chiefs Association (IAFC) and its Eastern Division (EDIAFC).
Since his appointment as Chief of the Department, Chief See has focused the Department's efforts in the improvement of firefighter safety through the modernization of its apparatus fleet, the replacement of firefighting tools and personal protective equipment, and continuing to ensure the community's service demands are met. He successfully led the Department through a brief period of internal strife when differences between a minority of Department members and the City were highly publicized.
He has overseen the renovation of Fire Station #1 and the construction of a new 41,000 square foot fire station and administrative headquarters facility on the City's west side. He has been instrumental in the continued implementation of the Fire Department's strategic plan since its development and initial implementation in 2001. During his tenure he has seen the replacement of all of the Department's capital apparatus; new self-contained breathing apparatus; an increase in the total number of career and volunteer positions; the implementation of volunteer position descriptions and promotional processes; and the appointment of the Department's first female fire line officer, among other accomplishments.
In his thirty years of service with the Salisbury Fire Department, Chief David See has committed himself fully to serving the citizens of the City and the Salisbury Fire District. The Salisbury Fire Department was honored to have served with him and we wish him the best in his retirement. Mayor Jim Ireton has appointed Deputy Chief Richard A. Hoppes as the Acting Fire Chief while Chief See takes accumulated leave time until his official last day of June 30th, 2009.
** The members of Fire in the Hole Photograpny would like to thank him for allowing us what we do in and around Salisbury. We wish him the best of luck in his retirement!**