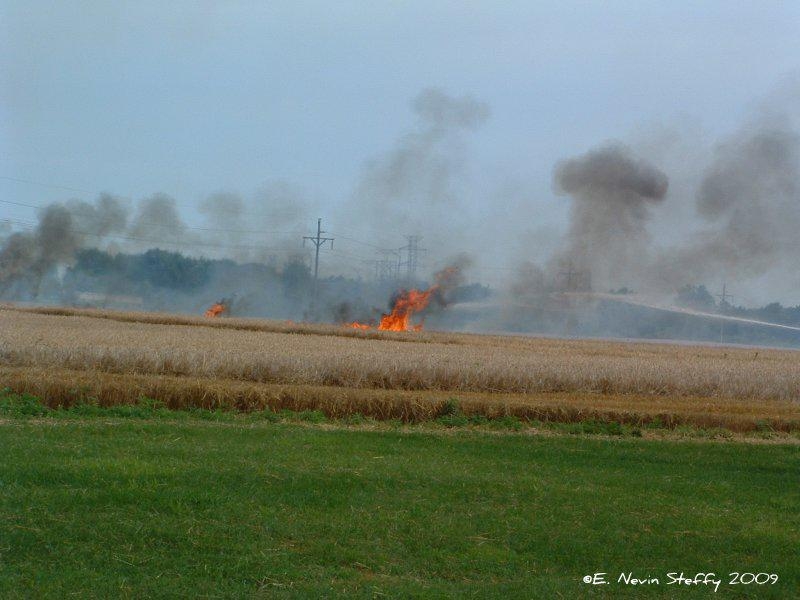 6/16/2009 – On June 16, 2009, at approximately 1600 hours, Brush Box 6-12 was struck alerting Queen Annes Station 6 (Sudlersville) and Kent County Station 2 (Millington) for a 'natural cover fire' at 200 Hardwood Mill Lane to the rear of Hardwood Mills. Units enroute were able to see a large smoke plume from a partially cut barley field that had caught fire from the machinery used to harvest the barley.
On arrival of Queen Annes Station 6 Officer, a tanker task force was requested due to the large free burning fire being fanned by a slight breeze that was running to the mill working business, including a large pile of cut lumber and a large pile of sawdust. The tanker task force was later canceled as the situation was quickly placed under control. Several acres of cut and standing barley were consumed in the fire.
Units on the scene consisted of:
Queen Annes Station 6 – Brush 6, Engine 61, and Tanker 6
Kent County Station 2 – Brush 2, Brush 2-1, Engine 2, Tanker 2, and Ambulance 2
Queen Annes Station 7 – Brush 7 and Engine Tanker 7
The Tanker Task Force consisted of Kent County Stations 3 (Galena), 4 (Kennedyville), 6 (Chestertown) and Queen Annes Station 5 (Church Hill). Those units canceled shortly after dispatch.
Story and Photos by E. Nevin Steffy