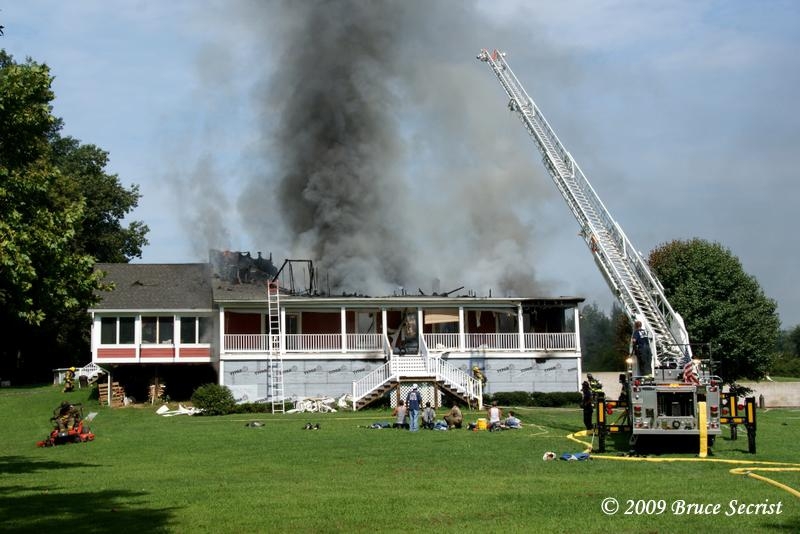 8/11/2009 – At approximately 2:50 PM Queen Anne's County dispatched Station 3 (Queenstown), Station 2 (Grasonville), Station 4 (Goodwill), Station 1 (Kent Island) and Paramedic 300 for a working dwelling fire in the 3-6 box at 229 Arrington Road.
Kent Island Officer 101 (P.Schlotterbeck) was the first to arrive on location, reported heavy fire showing and established "Arrington Road" command. Immediately command requested the Tanker Task Force and a 2nd alarm, eventually going to a 3rd alarm.
Upon arrival Engine 32 and Engine 25 laid supply lines in while Truck 2 set up in the front yard. Crews were quick to start battling the heavy blaze. Other units arriving on location staged on Arrington Road and sent their man power to the scene to assist with fire suppression and extensive overhaul.
One draft sites was established at a nearby golf course and water was shuttled to the scene by the Tanker Task Force. The second draft site was established in a stream at the end of the lane. Units operated on the scene for approximately 4 hours and 30 minutes with command being terminated at 7:15 PM.
The Maryland State Fire Marshall's Office is investigating the cause of the fire. The damage is estimated at 1 million dollars.
Units on scene: (Queenstown) Engine 32, Engine/Tanker 3, Rescue 3, (Grasonville) Engine 25, Truck 2, Rescue 2, Tanker 2, Ambulance 203 (Kent Island) Tower 1, Engine/Tanker 1, (Goodwill) Engine 41, Tower 4, Ambulance 40, Engine/Tanker 4, (Queen Anne-Hillsboro) Engine 85, Tanker 86, Chief 80, (Cordova) Engine 54, Tanker 53, (Easton) Tanker 61, Engine 67, (Church Hill) Engine 55, Tanker 5, (Crumpton) Rescue/Engine 7, (Ridgely) Engine 401, Tanker 406, (Greensboro) Engine 603, Tanker 606, (Denton) Engine 305, Tanker 306, (QAC) Paramedic 300, Anne Arundel County Alarmers and Queen Anne's County Sheriff Dept. Sorry if I missed any!!!
Photographs by : Bruce Secrist