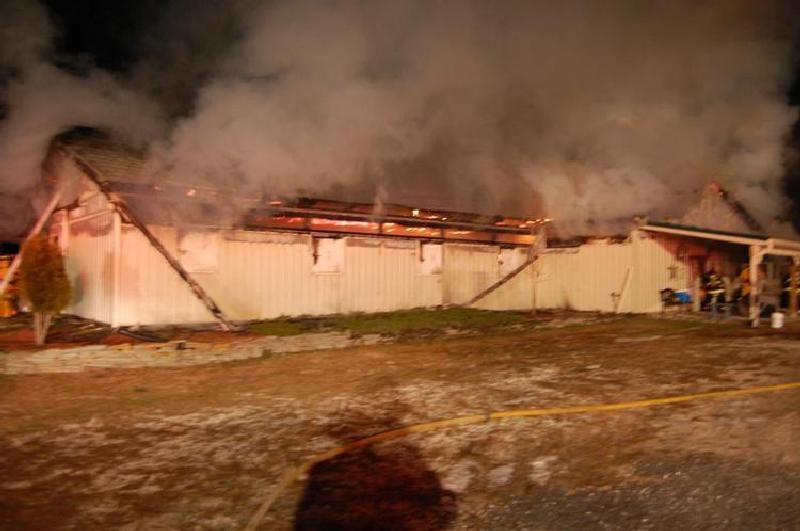 1/24/2010 – On Wednesday, January 13 at 19:21 Station 71 along with Mutual Aid assist from Station 87 and Station 77 were dispatched for a Barn Fire that was reported to be involved. 71 Command with Assistant Chief Chad Passwaters responded, Engine 71-9 with Deputy Chief Bryan Callaway responded as the first due Engine. Tanker 71-2 responding with Assistant Chief Ray Hastings and Rescue 71 with Chief Engineer Jack Chaffinch, 71 Command arrived on scene and advised all incoming units that the barn was fully involved and would be doing an exterior attack, First due 71-9 was given the assignment to pull two 1 3/4" attack lines, Tanker 71 was to lay in 5" and supply 71-9 along with two attack lines. Station 87 and 77 responding units were given the assignment to attack from the east side of the structure. Assistance was requested from Station 81 who responded with their Ladder Tower and Rescue 81. The barn housed many different type of animals, several dogs were rescued and were treated on scene by Ambulance EMT's. There were approximately 85 Fire personnel on scene. The scene was brought under control at 20:26.
Units responding were: 71-9, Engine Tanker 71-2, Rescue 71, Ambulance A-71, Ambulance B-71, Engine 71-5, Utility 71-8. Engine 87-5, Ambulance A-81,Rescue 87-6, Tanker 87-9, Tanker 77, Engine 77-4, Traffic Control 77, Ladder Tower 81, Tanker 81-5, Rescue 81, Engine 72-9, Traffic Contol 72, Traffic Control 79, Medic 102, FM 16.
Standy Units at Station 71 were Federalsburg Station 100 Engine 102, 78-2.
Story By: D.Ruff
Photos by D. Chaffinch and Blades VFD