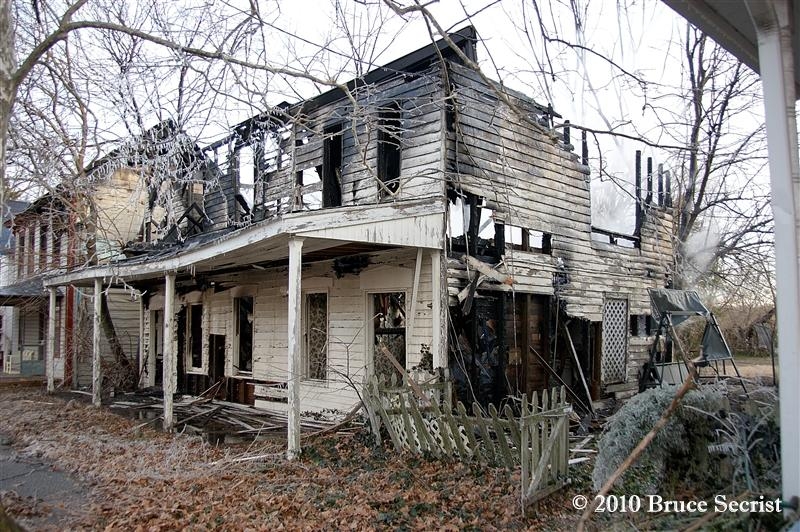 1/29/2010 – At approximately 5:25 AM Queen Anne's County dispatched Station 7 (Crumpton), Station 6 (Sudlersville), Kent County Md. Station 2 (Millington) and Station 6 (Chestertown) for a working dwelling fire at 320 Broad Street.
Upon the response of Engine/Tanker 7 Officer 704 (J. Hurlock) requested a 2nd alarm and the Tanker Task Force. Engine/Tanker 7 arrived on location, Officer 704 reported a single family 2 story vacant dwelling with heavy fire showing and extension to a second structure. Office 704 established command and advised Queen Anne's to dispatch the 3rd alarm.
Engine 3 from Galena responded to the Crumpton Landing and established a draft site for the water shuttle. All other crews battled the blaze as well as the freezing weather conditions. The two structures were a total loss and the third had damage to the exterior wall only. Units operated on the scene for approximately 3 hours before returning to quarters.
The cause of the fire is being investigated by the Fire Marshall's Office.
Companies on scene: Crumpton, Sudlersville, Millington, Chestertown, Church Hill, Centreville, Galena, Kennedyville, Marydel, Hartley, Clayton, Goldsboro, Smyrna and Queenstown
Photographs by : Bruce Secrist