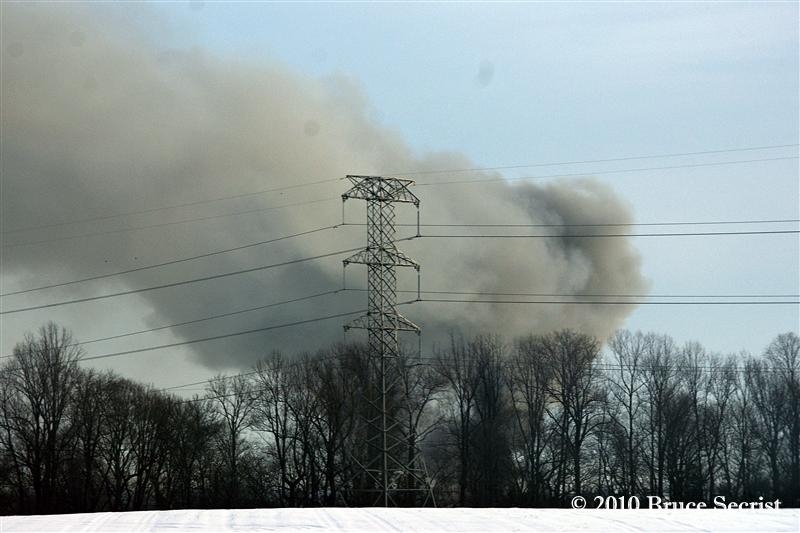 2/2/2010 – At 7:44 AM Caroline dispatched Station 600 (Greensboro), Station 700 (Goldsboro), Station 400 (Ridgely), Station 300 (Denton) and Paramedic 17 for a structure fire at 26463 Boyce Mill Road.
Chief 6 (C. House) arrived on location, reported a Body Shop with heavy fire showing and established "Boyce Mill Road" command. Upon the arrival of Chief 4, Officer 415 (B. Utz) was assigned "Staging Officer". Crews initially tried to do an interior attack, but because the roof structure of the building started to fail, command advised all crews to back out and do an exterior attack only. Engine 401 was sent to the town of Greensboro to hook to a hydrant and fill tankers for a water shuttle. Command requested several other Tankers to respond to the scene as well. Crew from 9 Companies operated for several hours doing extensive overhaul.
The cause of the fire in being investigated by the State Fire Marshall's Office.
Companies on scene: Greensboro, Goldsboro, Ridgely, Denton, Queen Anne-Hillsboro, Cordova, Harrington, Felton, Marydel and Caroline Co. EMS
Photographs by : Bruce Secrist