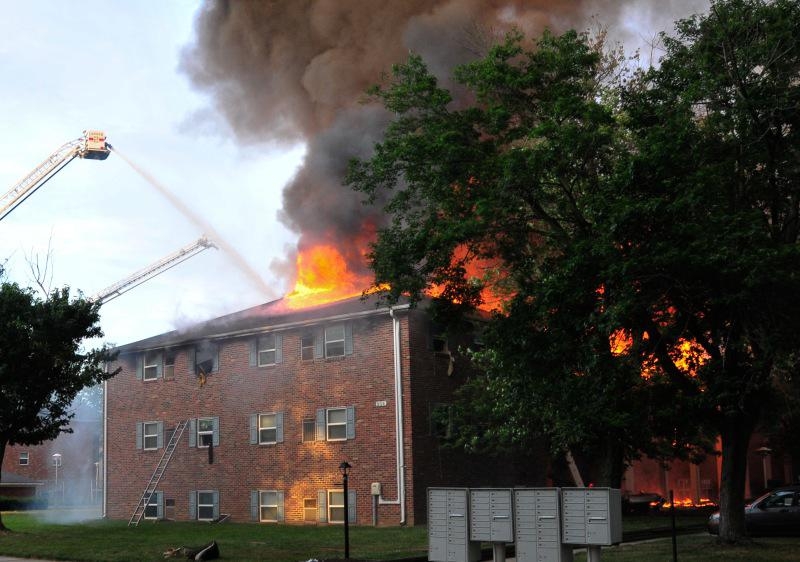 6/6/2010 – Write up from Delaware online…..
DOVER — A fast-moving, apartment blaze claimed the life of a Dover woman and injured six other building residents early today, two critically, in a tragedy that forced as many as many as 150 people from their homes.
Three firefighters and a police officer also were injured as neighbors and emergency workers raced to help residents who leaped from second and third floor windows to escape scouring flames and dense smoke.
First calls for help at the 28-unit Woodcrest Apartments building came in at about 5:59 a.m., officials said. Investigators were still picking through gutted portions of the building this afternoon, adjacent to the city power plant and just south of Dover High School.
Witnesses said that patrolmen who arrived ahead of fire trucks dragged some of the injured to safety after hard falls left them unable to flee from the side of the 2 1/2-story, L-shaped building.
"We watched the whole building just catch fire. There were people jumping out of windows, people screaming for help," said Ashley Stafford, who fled the blazing apartment building with her mother and family dog after hearing a building fire alarm.
"A woman was lying on the ground. It looked like she was severly burned and she might have hurt herself jumping out," Stafford said. "People were yelling for help. It was horrible. People were yelling but you can't really do anything."
Four people were treated at Kent General Hospital as a result of injuries, Dover Police Capt. Tim Stump said. Two others were transferred to Crozer Chester Medical Center's burn unit in Upland, Pa., in critical condition.
Photographer – Gene Shaner