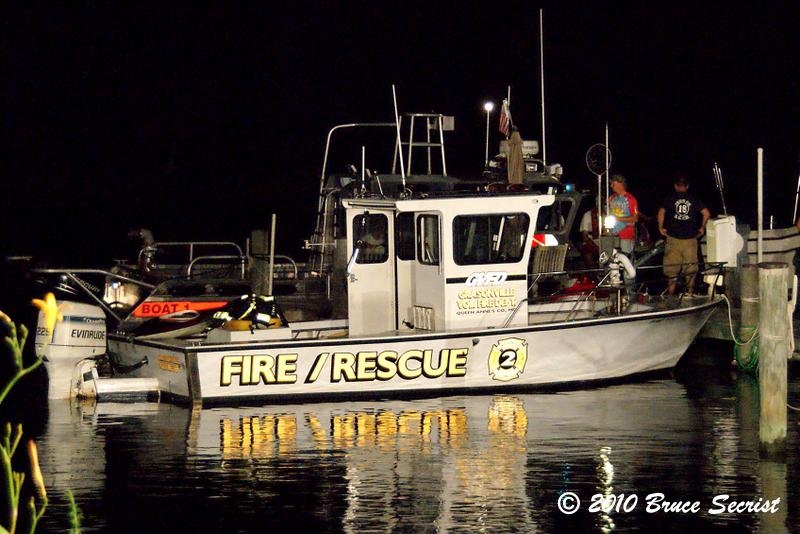 7/18/2010 – At approximately 8:55 PM Queen Anne's County dispatched Station 2 (Grasonville) and Station 1 (Kent Island) for a report of subjects in the water, in Greenwood Creek near 138 Greenwood Creek Road. Rescue 2 arrived on location to find that a boat had capsized and the two occupants had gone over board. Officer 201 (J. Anthony) established "Greenwood Creek" command. After further investigation Command was advised one subject had made it to shore safely, however the second subject was still in the water.
Command requested Trooper 6, and additional boats from Talbot Co. Station 40 (St. Michaels), Coast Guard, Natural Resource Police, and Dive Teams from Caroline Co. Station 200 (Preston), Dorchester Co. Station 6 (Hurlock) and Anne Arundel County.
Crews did an aggressive search of the creek until approximately 12:30 AM, but were forced to quit due to extremely heavy thunder storms moving across the area. Boat 2, Boat 1, Anne Arundel Co. Dive Team and Natural Resource Police resumed the search first thing this morning under the command of Officer 203 (M. Coursey). Divers recover the subject at approximately 10:30 AM.
The cause of the accident is under investigation.
On behalf of everyone at Fire in the Hole Photography, I wish to offer our condolences to everyone affected by this tragedy.
Photographs by : Bruce Secrist