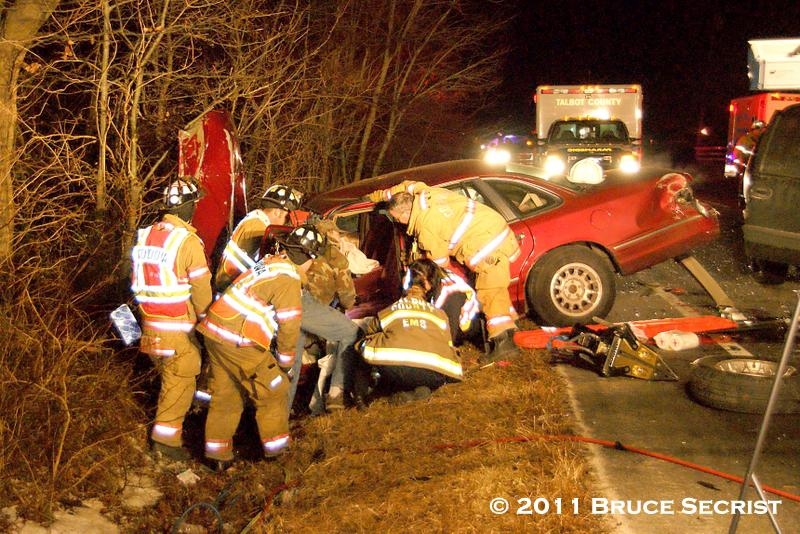 1/15/2011 – At 5:25 AM Talbot Center dispatched Station 50 (Cordova) and Paramedic 90 for a 10-50 PI, reported serious with entrapment on Cordova Road in the area of Three Bridge Branch Road. Prior to units arriving Talbot Center added Paramedic 96 and Station 60 (Easton) to the Rescue Box.
Utility 57 (B. Messix) arrived on location and reported two vehicles involved and it appeared to be serious. Officer 503 (B. Messix) established "Cordova Road" command. Crews from Engine 51 and Engine 52 extricated one patient with heavy entrapment to the lower extremities from the car while crews from Rescue 61 and Engine 68 removed one patient from the back seat of the van. Trooper 1 and Trooper 6 each transported one patient to the University of Maryland Shock Trauma Center in Baltimore.
The accident is being investigated by the State Police.
Units on scene: Utility 57, Engine 51, Engine 52, Ambulance 50, Ambulance 51, Rescue 61, Engine 68, Paramedic 90, Paramedic 96, Trooper 1, Trooper 6, MSP and Talbot Sheriff Dept.
Photographs by : Bruce Secrist