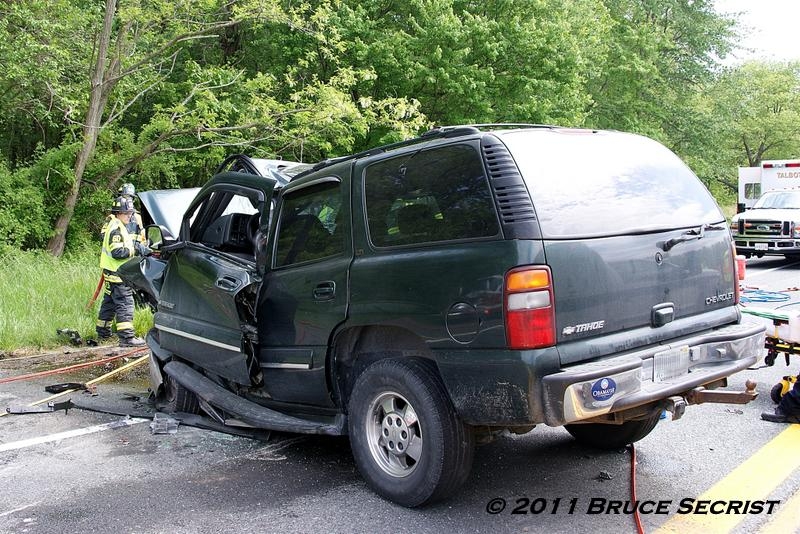 5/6/2011 – At approximately 2:20 PM Talbot Center dispatched Station 60 (Easton), Station 40 (St. Michaels), Paramedic 96 and Paramedic 94 for a 10-50 PI, reported serious with entrapment on Route 33 in the area of Arcadia Shores Road.
Talbot Center advised all responding units that a firefighter from Station 60 was on location and reported two vehicles involved in a head-on collision with heavy entrapment of both drivers. Paramedic 96 arrived on location, requested Aviation and advised Talbot Center they had one "Priority 1" patient with heavy entrapment and one "Priority 4" patient. Crews worked together to remove the doors, roof and do a dash roll to extricate the patient. Once extricated and stabilized, the patient was taken to the Landing Zone, which was about ½ mile down the road. The patient was transported by Trooper 6 to the University of Maryland Shock Trauma Center in Baltimore where she succumbed to her injuries.
Route 33 was closed in both directions until the Rescue Operations were complete and then one lane was reopened. The roadway was completely reopened at approximately 6:00 PM. The cause of the accident is being investigated by the Maryland State Police.
Officer 401 (J.D. Patrick) had "St. Michaels Road" command.
On behalf of Fire in the Hole Photography, I would like to offer our condolences to everyone affected by this tragedy.
Photographs by : Bruce Secrist