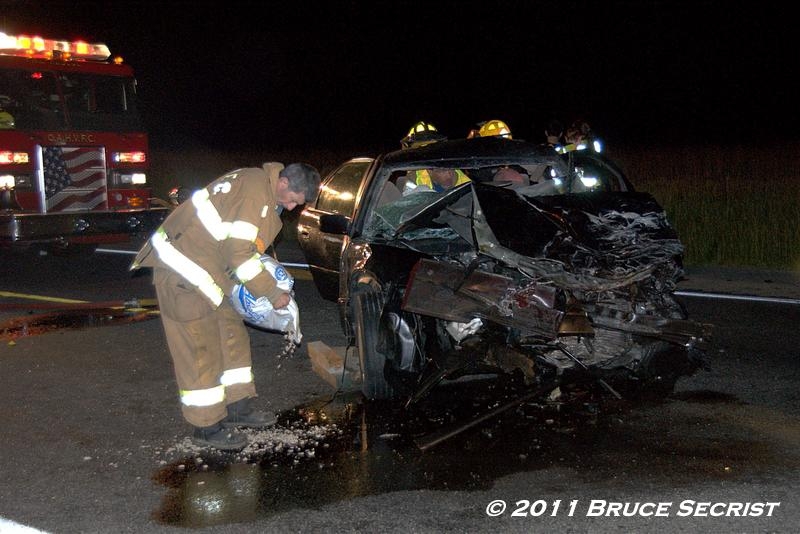 6/2/2011 – At approximately 3:40 AM Talbot Center dispatched Queen Anne-Hillsboro Station 80, Paramedic 90 and Queen Anne's Co. Paramedic 300 for a 10-50 PI, reported serious with entrapment and ejection on Shore Highway in the area of mile marker #2. Chief 80 (C. Morgan) arrived on location to find two vehicles involved in a head-on collision with several entrapped and an ejection.
Officer 803 (C. Morgan) established "Shore Highway" command and immediately requested several additional Paramedic units, 2 additional rescues and aviation. Talbot Center added Station 50 (Cordova), Queen Anne's Co. Station 3 (Queenstown), Paramedic 400, EMS-4, Caroline Co. Paramedic 13 and Paramedic 14 to the Rescue box. Several crews worked on extricating the three heavily entrapped patients while EMS crews worked on one patient that had been ejected and three others with minor injuries.
Trooper 1, Trooper 4 and Trooper 6 transported one patient each to the University of Maryland Shock Trauma Center in Baltimore and Trooper 7 transported one patient to PRMC in Salisbury. Three patients were transported by ground to the Memorial Hospital at Easton.
Shore Highway was closed in both directions for approximately 3 hours while the scene was cleaned up and the Maryland State Police conducted their investigation.
Units on scene: Chief 80, Ambulance 81, Rescue 84, Engine 85, Engine 51, Engine 52, Rescue 3, Engine 401, PM-90, PM-13, PM-14, PM-300, PM-400, EMS-4, Troopers 1, 4, 6 and 7, Maryland State Police, Talbot Sheriff Dept. and State Highway.
Photographs by : Bruce Secrist