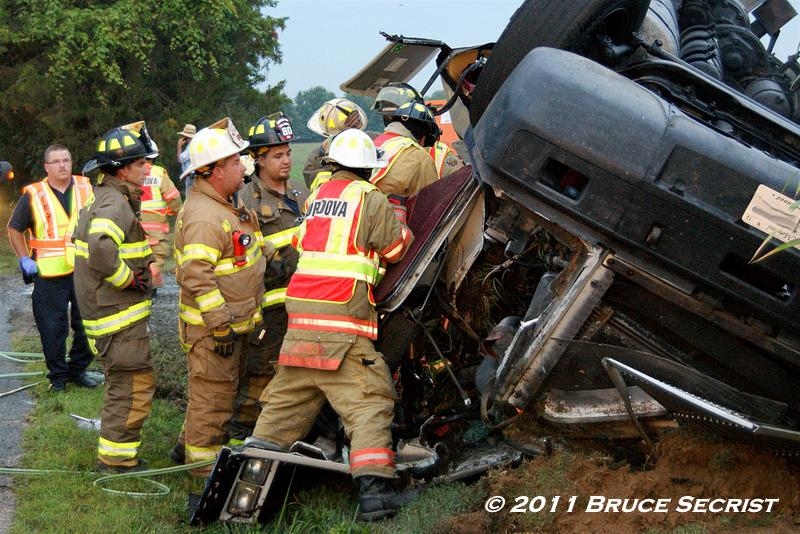 7/12/2011 – At approximately 5:35 AM Talbot Center dispatched Station 50 (Cordova) and Paramedic 90 for a 10-50 PI, reported serious with entrapment in the area of 13291 Church Lane. Engine 51 arrived on location, Officer 501 (M. Secrist) reported one tractor trailer overturned and it appeared to be serious. Officer 501 (M. Secrist) established command and requested Station 80 (Queen Anne-Hillsboro) be added to the Rescue Box.
Command requested Aviation and crews were able to complete extrication in less than 15 minutes. One patient was transported to the University of Maryland Shock Trauma Center by Trooper 6.
Talbot County Special Unit 13 and MDE were dispatched to pump the fuel from the saddle tanks on the truck. Another truck was brought in to unload the 5,400 gallons of milk that was on the overturned truck. Once the trailer was off loaded crews were able to upright the tractor trailer. Units remained on the scene until approximately 12:30 PM.
Units on scene: Engine 51, Rescue 84, Paramedic 90, MSP, Talbot Sheriff Dept, MDE, Trooper 6 and Special Unit 13.
Photographs by : Bruce Secrist