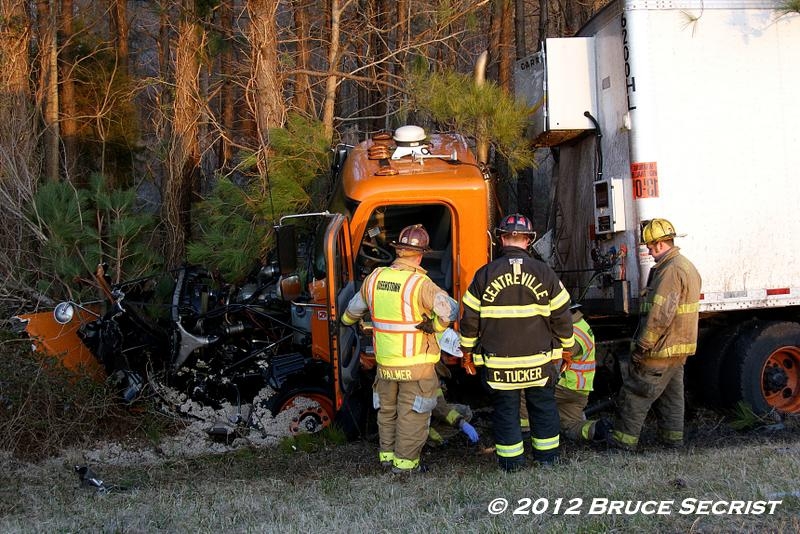 3/6/2012 – At approximately 5:05 PM Queen Anne's County dispatched Station 4 (Goodwill), Station 3 (Queenstown), Paramedic 400 and EMS-3 for an MVC, car vs. tractor trailer on Route 213 in the area of Lloyds Meadow Lane.
Paramedic 40 arrived on location and reported two vehicles involved in a head on collision. Chief 4 (N. Powell) arrived on location and established command. It was confirmed the lone occupant in the car was a "Priority 4" and the driver of the tractor trailer was transported with minor injuries. MDE was called to the scene as the result of a 200 gallon fuel spill from the trucks saddle tanks as well as large amounts of motor oil and transmission fluid on the roadway and around the vehicles. Route 213 remained closed for approximately 6 hours while the Maryland State Police conducted their investigation and the wreckage was cleaned up.
Units on scene: Chief 4, Rescue 4, Engine 41, Paramedic 40, Rescue 3, Paramedic 400, EMS-3, Maryland State Police and State Highway.
On behalf of Fire in the Hole Photography, I would like to offer our condolences to everyone affected by this tragedy.
Photographs by : Bruce Secrist