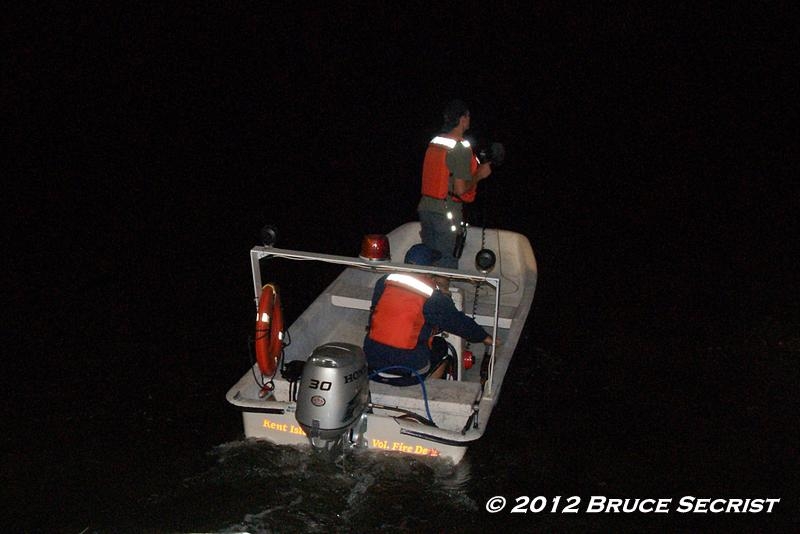 5/27/2012 – At approximately 11:15 PM Queen Anne's County dispatched Station 2 (Grasonville), Boat-1, Boat-10 (Kent Island), Boat-3 (Queenstown), Boat-9 (United Communities), Talbot County Boat-40 (St. Michaels), Boat-70 (Tilghman), Trooper 1, Trooper 6 and several QAC Paramedic Units for a boating accident at the jetty in the Kent Narrows. Queen Anne's advised all responding units that the caller reported hitting the concrete jetty injuring three patients on board the vessel and a forth patient was ejected from the vessel and not visible at the time of the call.
Rescue 2 arrived on location to find the damaged vessel docked behind the Bridges Restaurant, Officer 202 (S. McCombs) established command. Paramedics evaluated the patients and determined two of them need to be transported to Shock Trauma and the third refused treatment at the scene. Trooper 6 transported the first patient and Trooper 1 transported the second patient. Engine 32 secured the LZ for both Troopers in a grass lot just west of the Holiday Inn Express. At 2:50 AM Command placed the situation under control and released all units. The Coast Guard and DNR continued the search at day break and recovered the missing subject at approximately 12:30 PM.
Trooper 2, the Anne Arundel Fire Dept. Dive team along with their H.E.A.T team, DNR, the Coast Guard, Maryland State Police and two firefighters in their personal boats also assisted with the search.
On behalf of Fire in the Hole Photography, I would like to offer our condolences to everyone affected by this tragedy.
Photographs by : Bruce Secrist