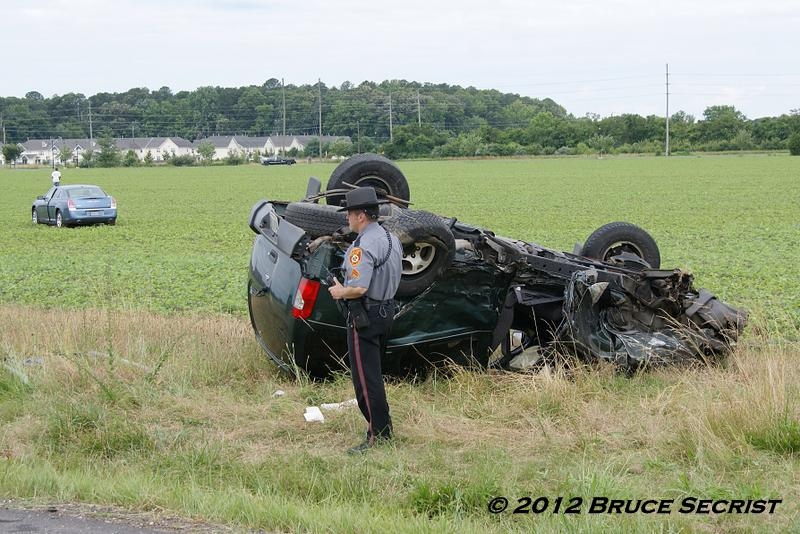 6/14/2012 – Talbot Center dispatched Station 60 (Easton), Station 30 (Trappe), Paramedic 90 and Paramedic 96 for a 10-50 PI, reported serious with entrapment on Ocean Gateway (Route 50) in the area of the Maryland State Police Barrack.
Chief 61 (S. Jones) arrived on location to find four vehicles involved with one subject partially ejected and trapped under the vehicle. Officer 602 (S. Jones) established command and requested an additional Paramedic Unit as well as Aviation. Crews quickly extricated the trapped patient however do to her condition she was transported to the Memorial Hospital at Easton by Paramedic 90. Once she was stabilized Trooper 6 transported her to the University of Maryland Shock Trauma Center in Baltimore. The other three patients were transported to Easton with minor injuries.
Tower 61 was set up so investigators could get aerial photos of the crash scene to assist with their investigation. Route 50 remained closed for the duration of the investigation.
Units on scene: Chief 61, Engine 68, Engine 67, Brush 69, Tower 61, Rescue 32, Paramedic 90, Paramedic 96, Paramedic 93, Trooper 6, MSP, Easton PD, Talbot Sheriff's Dept. and State Highway
Photographs by : Bruce Secrist