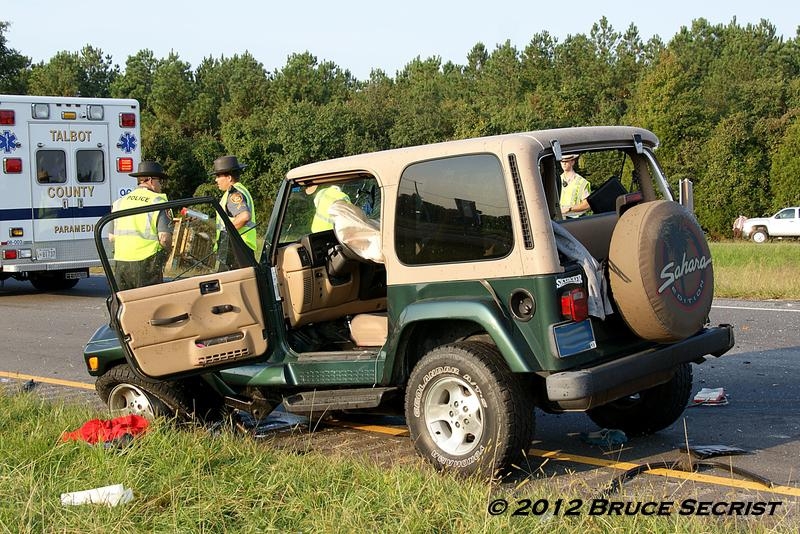 9/26/2012 – At 7:50 AM Talbot Center dispatched Station 60 (Easton), Station 30 (Trappe), Paramedic 96, Paramedic 93 and Special Unit 13 for a 10-50 PI, reported serious involving a jeep and an overturned tractor-trailer on Ocean Gateway in the area of the south end of the Bypass.
Units arrived on location to find a jeep with extensive damage and a dump truck pulling a trailer overturned off of the roadway. Paramedic 96 immediately requested Aviation. After both patients were packaged for transport, crews from Engine 68, Rescue 61 and Special Unit 13 secured both vehicles and began to pump off the diesel fuel from the truck and the overturned backhoe. Rescue 32 secured the LZ for Trooper 6. The driver of the jeep was transported to the University of Maryland Shock Trauma Center by Trooper 6 and the driver of the dump truck was transported to the Memorial Hospital at Easton with minor injuries.
According to a press release the driver of the jeep pulled into the path of the east bound dump truck. East bound Ocean Gateway remained closed for approximately 5 hours while the Reconstruction Team from the Easton Police Department conducted their investigation and the wreckage was removed from the scene by Jess JR's and Sons Towing.
Officer 603 (C.R. Chance) had command.
Units on scene: Chief 61, Rescue 61, Engine 68, Rescue 32, Special Unit 13, Paramedic 96, Paramedic 93, EMS-1, Trooper 6, Maryland State Police, Easton PD and State Highway
Photographs by : Bruce Secrist