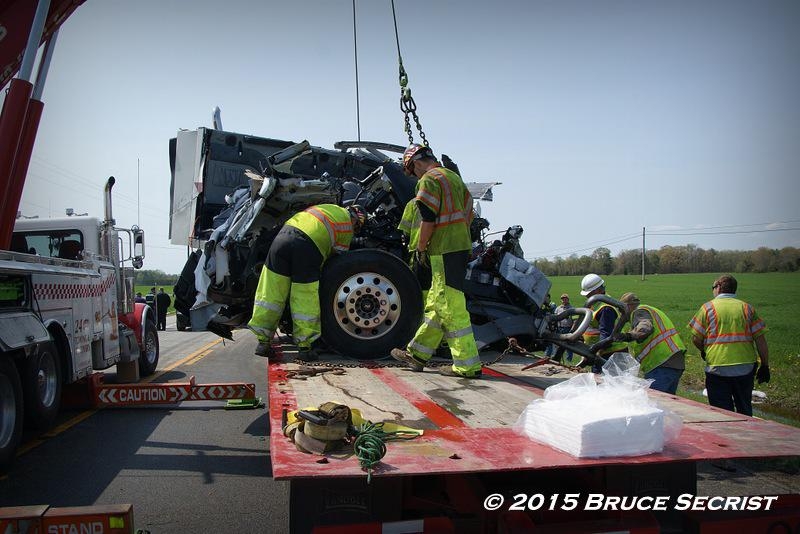 4/21/15 – Once again, Route 404 has proven to be one of the deadliest roads in the State of Maryland. Our thoughts and prayers are with everyone affected by this tragedy.
At approximately 6:50 AM Talbot Center dispatched Station 80 (Queen Anne-Hillsboro), Station 50 (Cordova), Paramedic 90 and Paramedic 400 for an MVC, reported serious involving two tractor-trailers, on Route 404 in the area of Church Lane. Chief 80 (C. Morgan) arrived on location to find 3 tractor-trailers involved, one on fire, one with heavy entrapment and one with minor damage. Officer 801 (C. Morgan) established command and requested an additional Rescue and Engine from Station 3 (Queenstown) as well as Aviation. Crews worked for an extended period of time to extricate the two subjects heavily entrapped in the one truck. Unfortunately, three of the subjects succumbed to their injuries at the scene and the fourth subject refused treatment.
Route 404 remained closed for approximately 10 hours while the Maryland State Police did their reconstruction, and the wreckage was cleaned up by crews from Jess Jr's and Sons, 3D Environmental, MDE and Sonny Eaton.
Photographs by : Bruce Secrist