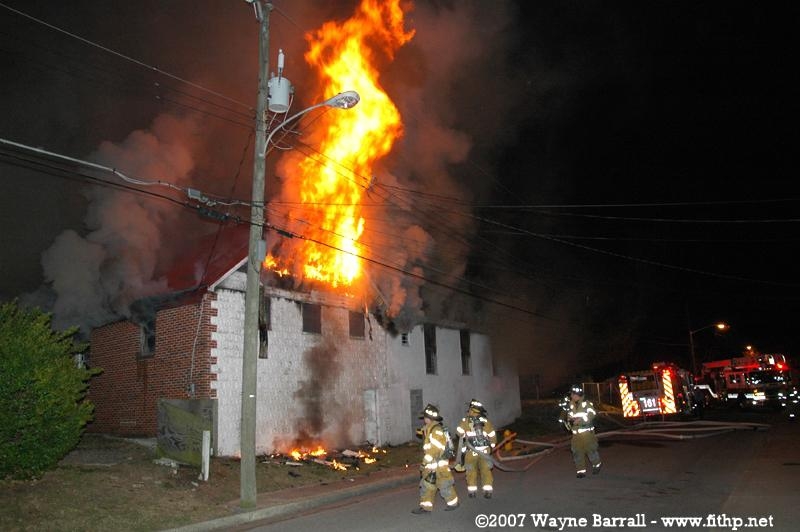 1/5/2008 – A fire starting at 9 p.m. Saturday night caused an estimated $450,000 in damage to the Holy Temple Church of God & Christ on Delaware Avenue according to the Maryland State Fire Marshal Office incident report.
About 60 fire fighters, from all three Salisbury Fire Departments were called to 326 Delaware Avenue, and ladder truck assistance was requested from Sharptown and Hebron, said Salisbury Fire Captain Darrin Scott. The fire at the two story, masonry and wood-frame structure, was under control by about 9:45 p.m., he said.
There were no reported injuries. Smoke alarms in the building were present and working, according to the incident report. The fire is believed to have started in the basement, although the state continues to investigate the cause. The church's pastor discovered the fire.
The structure is still standing, but Scott said extensive fire, smoke and water damage has ruined much of the church.
The state fire marshal's office has started an investigation due to the size of the fire, Maryland Fire Marshal William Barnard confirmed.
Story from www.DelmarvaNOW.com
Responding units:
AC-1, DC-1, TR-16, E16, E16-1, P16, R-16, UT-16, E210, TR2, AL2, UT2, E1-1, E1, SQ1, UT1-1, E1404, TR14, TWR5, ET5, E507, PA2, AC2, PA1
Standby crews were:
TR74 @ Station 2, E301 @ Station16, A6 @ Station16, E605 @ Station 1, E903 @ Station 5, E81-5 @ Station 14