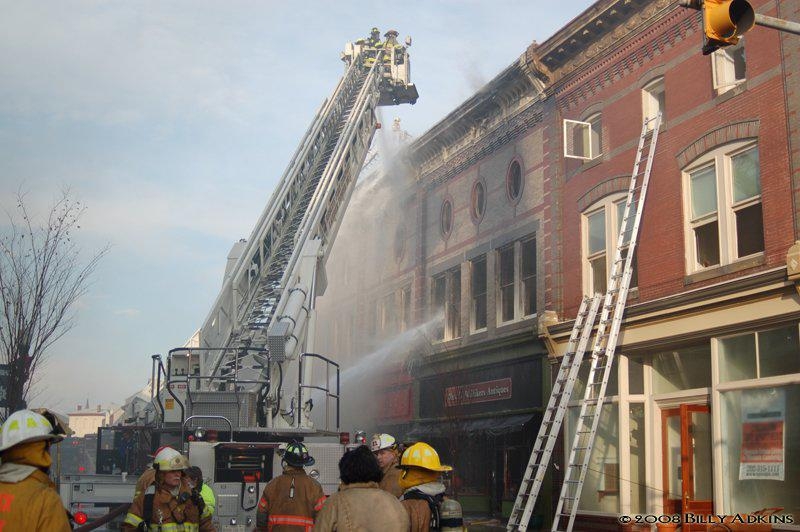 1/15/2008 – CAMBRIDGE, Md. — A fire destroyed two antique stores in historic downtown Cambridge and damaged several other buildings today, the city's mayor said.
Adjoining buildings also suffered smoke and water damage, said Mayor Cleveland Rippons.
The antique stores are on Race Street, the heart of the city's downtown, which has been undergoing extensive renovation, the mayor said.
Investigators are looking into the cause of the blaze, which dealt a blow to the renovation efforts.
"We'll have to work with the owners to see what we can do to ensure the integrity and the heritage of that area is returned," Rippons said.
Joe Zurolo, a spokesman for the state fire marshal's office, said the fire was reported shortly after 10:30 a.m. and quickly spread. About 225 firefighters from at least 10 fire companies in Dorchester and Talbot counties fought the blaze, which had not been brought under control by mid-afternoon.
The area has been blocked off to the public.
Damage to the buildings was in excess of $1 million, Zurolo said.
"The buildings are still standing, but it's gutted," Zurolo said. "The walls are still there, but virtually both buildings have been destroyed by the fire."
Michal Dixon, a secretary at nearby Grace United Methodist Church, said flames were still visible more than an hour after the first alarm sounded. The church was opened to rescue workers "to come in and get warm," said Dixon, who noted snow had fallen earlier.
WBOC-TV reported the fire is at the Shore Bid Auction and Antique store building in the 400 block of Race Street.
At Craig's Pharmacy down the street, employee Betsy Willoughby reported seeing flames and black smoke. She added that flames were coming out of the top of the antique store building and appeared to be moving to the adjacent Salvation Army building.
Story From The Daily Times
Units Called to the Scene
Dorchester County
E1-1, E1-2, E1-3, E1-4, T1-1, HM1-1, E61-1, RE61-1, E16-1, E56-1, L56-1, E46-1, RE46-1, AMB46-1, E6-1, E6-2, T6-1, E11-2, E21-2, E39, P500, P101, P102, P103, BLS100
Talbot County
E30-9, R30-2, T20-3, E60-1, E60-3, T60-1, E50-3, R80-4
Wicomico County
E3-01, ET 5, T 5, RE9-06, E12-02, TK14, E14-04, E16-01, E74-02
Standby Crews
Station 81, Laurel, DE @ Station 14, Sharptown
Station 100(Federalsburg) @ Station 6 (Hurlock)
If I missed a peice, or if I got an engine number wrong, please just send me an email, and I will get it straight. Thanks. Also, if anyone knows if/what stations were called to go on standby for the stations called to the scene, please let us know.
FITHP Photographers on Scene – Billy Adkins & Wayne Barrall