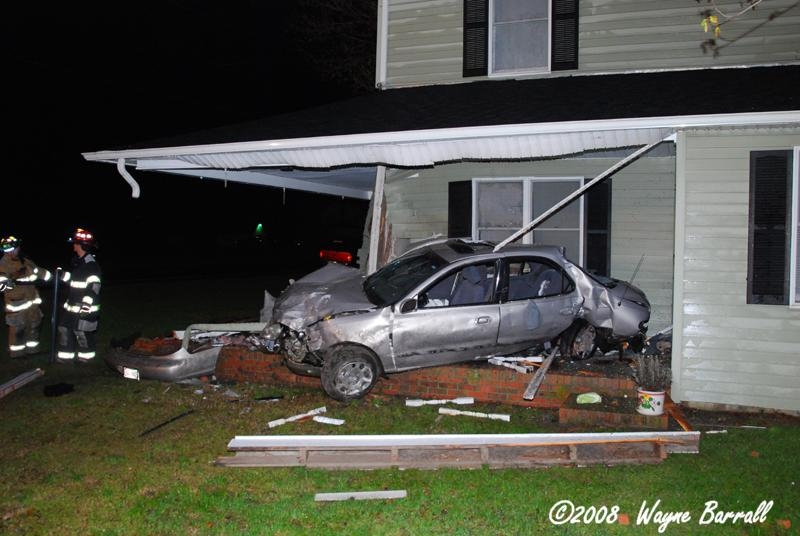 4/5/2008 – Around 4:30am the Delmar Fire Department was alerted for a motor vehicle accident on West Snake Rd north of town. While enroute crews were advised that this would be a car into a house. 74 Command arrived at the corrected location on Bi-State Blvd to find a car sitting on someone's porch!
The driver of the vehicle was next door at the neighbor's house and the EMS went to that location. Rescue crews went to work trying to locate the home owners, which just happened to be out of town at the time of the accident. Due to the amount of damage and the stability of the home, the Sussex County Technical Rescue Team was called in. The Delmar Fire crews utilized their adjustable foundation jacks to stabilize the porch area roof until the Sussex team arrived. When the Sussex County Technical Rescue team arrived they inspected the structure for what they would need to do. They used 4×4's to brace sections of the porch roof to prevent collapse.
The driver was transported to Nanticoke Memorial Hospital in Seaford for treatment. Crews were on scene for nearly 2 hours. The Delaware State Police is investigating the cause of this accident.
Responding units:
74 Command, Paramedic B-74, Paramedic A-74, Rescue 74, Engine 74-3
The Sussex County Technical Rescue Team consist of members from Sta.14 Sharptown, Sta.81 Laurel, Sta.87 Seaford, Sta.72 Bridgeville and Sta.84 Millville.
Photographs by : Wayne Barrall