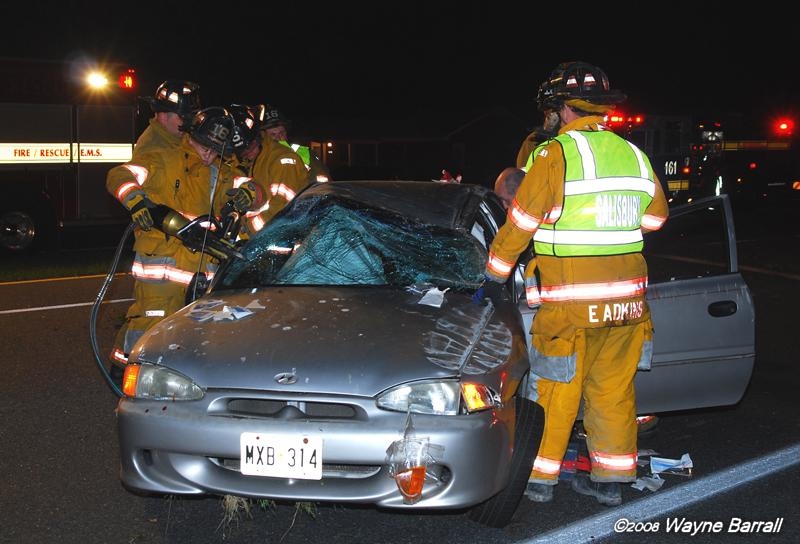 5/2/2008 – The Wicomico County Emergency Center alerted Salisbury Stations 16 & 2 for a accident with rescue on eastbound Rt.50 in the area of Queen Ave. Rescue crews arrived on scene to find a Hyundai Accent that left the roadway from west bound lanes of Rt.50 and overturned multiple times trapping the four occupants. Rescue 16 arrived and started to set up for rescue operations. They popped the passenger's side door and removed the roof of the vehicle. The crew from Engine 16-1 arrived and put in service a 1 ¾ hose to protect crews during the rescue ops from possible fuel leaks and they also assisted with patient care. Command requested for two additional ambulances from Salisbury and Sta.5 Hebron to respond to the scene. After all four patients were packaged; they were transported to PRMC in Salisbury for treatment.
Maryland State Police was on location. Rt.50 eastbound was shut down for about 30 minutes during this accident.
Responding units:
Assistant Chief Gladwell, Deputy Chief Hoppes, Rescue 16, Engine 16, Engine 16-1, Paramedic 16-1, 16, Paramedic B-5, Hart to Heart Paramedic 44 & the Maryland State Police.
Photographs by : Wayne Barrall