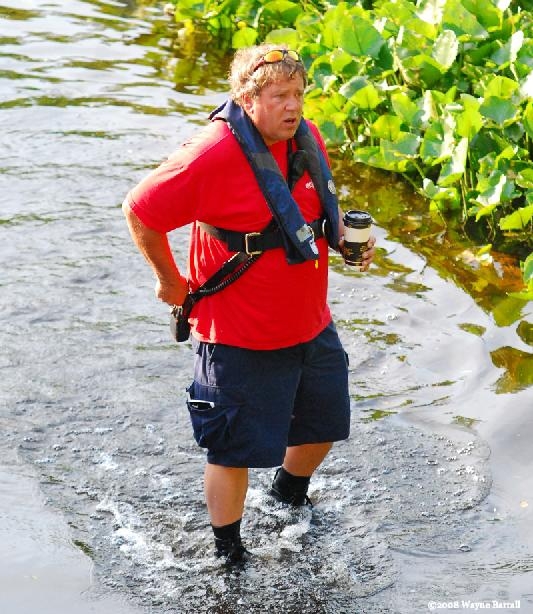 5/26/2008 – Around 7:30pm on Saturday night crews from Sta.16 & 2 were alerted for a water rescue on Johnson Pond in the area of the Rose St. Dam. As many as five people were on a ledge of the dam fishing when one of them lost their footing and fell into the pond. Another man jumped in trying to help the other guy and both of them went under the water. A third fisherman jumped in trying to save the others but was unable to find them. A fisherman from the ledge actually used his fishing rod to reel in the third man in the water.
As crews started to arrive, divers started to prepare to enter the water. The Dive Unit deployed a boat for safer and better access on the water. Maryland State Police Trooper-4 flew over head to give support with lighting the area. The dive team from Sta.14 Sharptown was reqested to respond to the scene. Crews searched for nearly 2 ½ hours and had to stop searching due to night fall.
Crews met back up at Sta.16 at 7am the next morning and discussed their plans for recovery. Units headed back out to the same location for start up again. Several divers entered the murky waters. They were hampered due to many obstacles underneath the water. Maryland State DNR arrived with their boat and crew had to cut a pathway thru dense woods to deploy their boat. Rescue crews walked the edges of the pond searching thru lily pads and the shallow parts of the pond while divers searched the deeper areas.
Around 9am divers found one of the missing men and recovered his body and transported him up to awaiting ambulance. Crews kept searching the same area and a few minutes later found the 2nd missing man. Both bodies were transported to PRMC in Salisbury.
Photographs by : Wayne Barrall