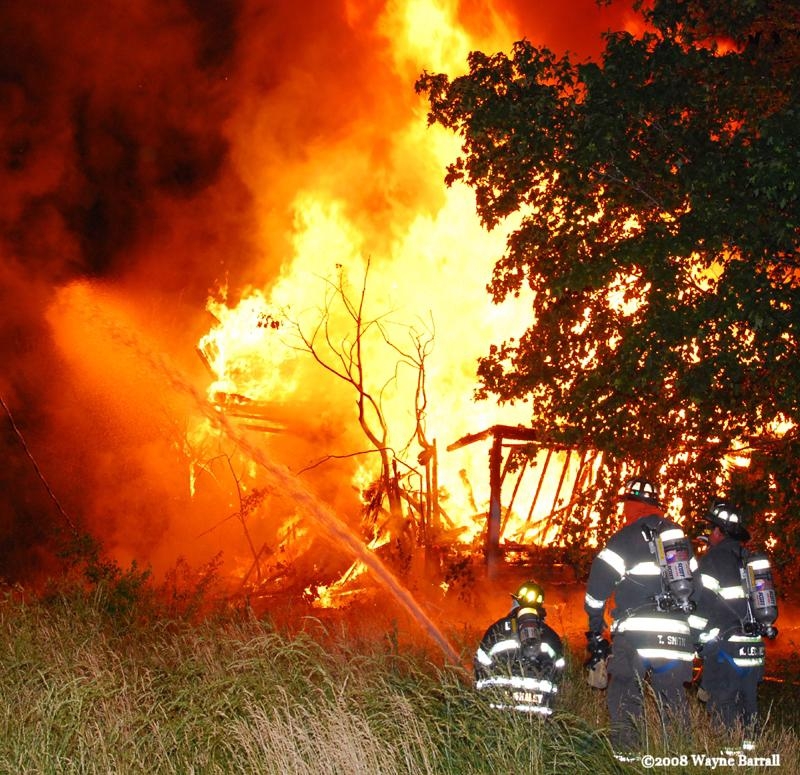 6/2/2008 – The Sussex Co EOC alerted Sta.81 Laurel, Sta.74 Delmar and Wicomico Co Sta.14 Sharptown for a structure fire at 34587 St. Georges Rd. 81 Command arrived on scene to find a vacant house well involved.
Engine 74-2 arrived and put a 2 ½ line in service to protect a small building close to the burning structure. Engine 81 arrived and put another line in service to try and knock down burning embers. Crews worked to just contain the fire from spreading.
The Delaware State Fire Marshal's Office was on scene investigating the cause of the fire. There has been a few suspicious fires in the Laurel / Delmar area in the past two weeks. If anyone has any info on any of these fire they are asked to call the Delaware State Fire Marshal's Office at 302-856-5600.
Responding units:
81 Command, Engine 81-2, Engine 81-4 Engine 81-5, Tower 81, Engine 74-2, Tanker 74-5, Rescue 74, Engine 1404, Engine 1402, Medic 102, Ambulance A-81 and Fire Marshal's FM-4, FM-11, FM-16
FITHP Photographers Wayne Barrall, Billy Adkins & JR Adkins were on scene.