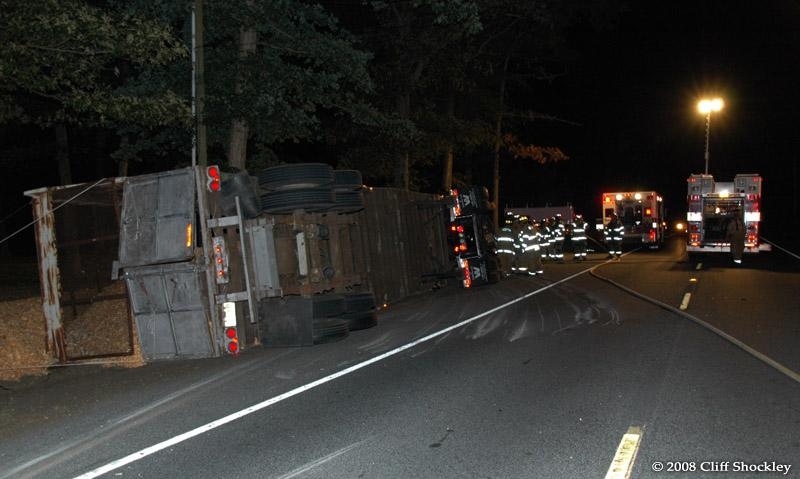 9/19/2008 – At 20:17 hours Sussex EOC alerted Station 74 (Delmar) to a traffic accident on Delmar Rd (Rt. 54) just west of Horsey Church Rd. Updated information came in that it was a tractor-trailer overturned with possible entrapment. At that time Sussex Medic 102 and Trooper 2 were alerted as well. Paramedic A-74 arrived on scene to find a truck with an open top trailer of pine mulch had overturned into a shallow ditch. It was determined that Delmar units could handle the call and 102 and Trooper 2 were returned to service. Crews worked for about 30 minutes removing and stablizing the patient. Driver was transported with moderate back and leg injuries to PRMC. Fire crews remained for an additional hour until scene was release to Delaware DOT. State DOT workers began off-loading the cargo around 9:45. Once emptied, heavy salvage wreckers will upright and move the truck. Rt 54 is expected to remain closed from Horsey Church Rd to Providence Church Rd. until after midnight. Delaware State Police are investigating the cause of the accident, it is unknown at this time if charges are pending.
Units Responding: Rescue 74, Engine 74-1, Command 74, Paramedic A-74, Ambulance B-74.
Also Alerted: Sussex Medic 102 and Trooper 2 Medivac.
Photographs by : Cliff Shockley