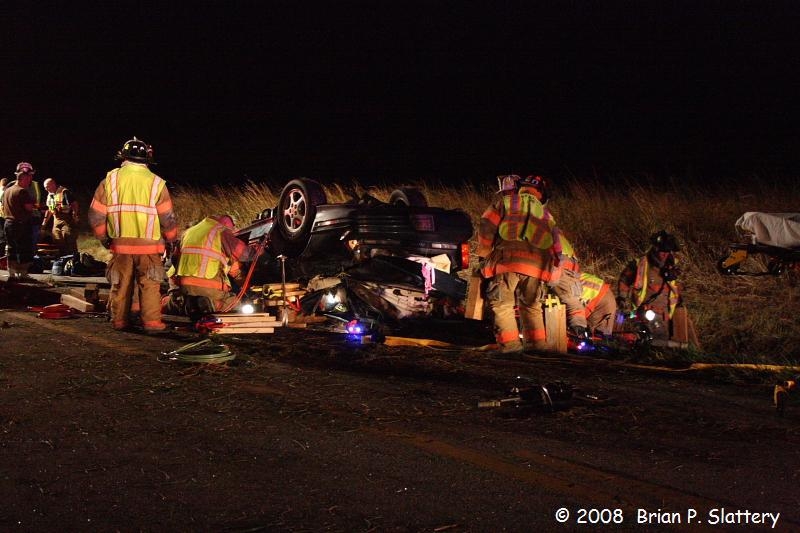 9/26/2008 – Around 22:24 hours Kent Center alerted Station 50 (Harrington), Kent County EMS (KM-8 and KM-5), and DSP Aviation (Trooper 2) for an MVC with rollover, ejection, entrapment, and possible MCI on Hopkins Cemetery Road just west of Pine Pitch Road. Ambulance B-48 (Felton) was on the road and added to the initial response.
Command 50 (with 50-17, Ralph Tucker) responded and Kent Center reported that there was believed to be four patients, with one ejection and possibly two patients trapped. Kent Center also advised that A-49 (Frederica) was in quarters with a crew and was being added to the response. Both DSP and MSP aviation units were down due to weather, and command requested an additional ambulance from Station 42 (Carlisle of Milford) be added. Units found a vehicle on its roof with one patient pinned by the vehicle, one patient who had been ejected, and two others who had extricated themselves. While the EMS crews tended to the three patients already out, the crews from Rescue 50 and Engine 50-5 worked to stabilize the vehicle and free the one patient. Extrication was completed about 22:45, and the scene placed under control shortly after.
Two of the patients were transported to Milford Memorial and the other two to Kent General Hospital.
Units on Scene: Command 50, Rescue 50, Engine 50-5, Ambulances A-50, C-50, B-48, A-49, A-42, Paramedic KM-8, Paramedic Supervisor KM-5, Harrington PD, and Delaware State Police
Ambulance A-78 (Greenwood) covered Station 50
FITHP Photographers On Scene: Brian Slattery & Ryan Whittington
Photographs by : Brian Slattery