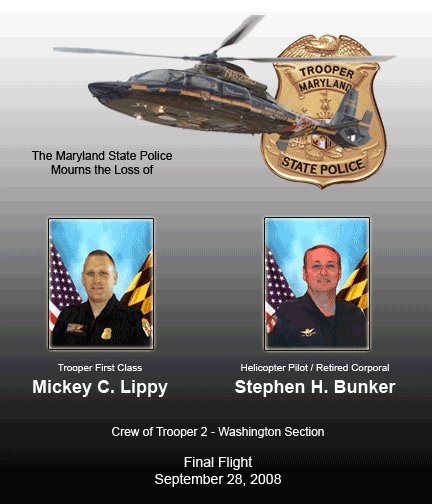 9/28/2008 – It is with great sadness that we bring this news story to you.
Our thoughts and prayers go out to all those aboard and thier families.
1. Stephen H. Bunker, the 59-year-old pilot from Waldorf, MD. Bunker had retired as a corporal in 1998 after 26-years with MSP. He returned as a civilian pilot. Bunker had been flying for MSP for 24-years and was a certified flight instructor and a certified instrument flight instructor. Stephen Bunker was married with three grown children.
2. TFC Mickey C. Lippy, the 34-year-old flight paramedic from Westminster, MD. Trooper Lippy joined MSP four-year-ago. Prior to that Lippy had been a firefighter and medic with the Anne Arundel County Fire Department. He had been assigned to Station 18 (Marley) for much of his career. Trooper Lippy had recently returned from family leave following the birth of his daughter, now four-months-old. Lippy was also a volunteer with the Owings Mills Volunteer Fire Company in Baltimore County. He worked part-time as a firefighter with Gamber & Comunity Fire Company in Carroll County, MD. Lippy's wife works full-time for Gamber.
3. Tanya Mallard, the 38-year-old EMT-B from Waldorf, MD. Mallard was an EMT-B with Waldorf VFD's Station 12. Mallard is survived by her husband and two children.
4. Ashley J. Younger of Waldorf, MD. She was the 17-year-old victim of the automobile accident.
Maryland State Police Press Release
(Forestville, MD) — Four of five people aboard a Maryland State Police medevac helicopter have been killed in a crash that occurred early this morning in Prince George's County.
The fatalities include the State Police pilot and flight paramedic, a fire/rescue medical provider, and a patient. A second patient on-board survived the crash and has been transported to the Prince George's Hospital Center. The crash occurred within a wooded area of the Walker Mill Regional Park, off of Berry Lane and Ritchie Road in Forestville, Md.
At about 11:00 p.m. yesterday, Maryland State Police helicopter, Trooper 2, was dispatched to the scene of a traffic crash in the Waldorf area. Trooper 2 responded from its hangar at the Andrews Air Force Base.
Trooper 2 picked up two female patients and a medical provider from the rescue squad to assist the State Police flight paramedic during the flight to the Prince George's Hospital Center. During the flight, the helicopter disappeared from radar. State Police and Prince George's County Police and Fire were notified and a search began.
Shortly before 2:00 a.m. today, the helicopter crash site was found. The helicopter was in a wooded area of the park. The four victims were pronounced dead at the scene.
A cause of the crash is not known at this time. Colonel Terrence Sheridan, Superintendent of the Maryland State Police, is on the scene, as are State Police investigators. The National Transportation Safety Board and the Federal Aviation Administration have been notified and are on the scene.
NOTE:A media briefing site has been set up at the North Forestville Elementary School, located in the 2400-block of Ritchie Road, Forestville, Md.
Story from Maryland State Police
Pictures are from MSP Aviation Website