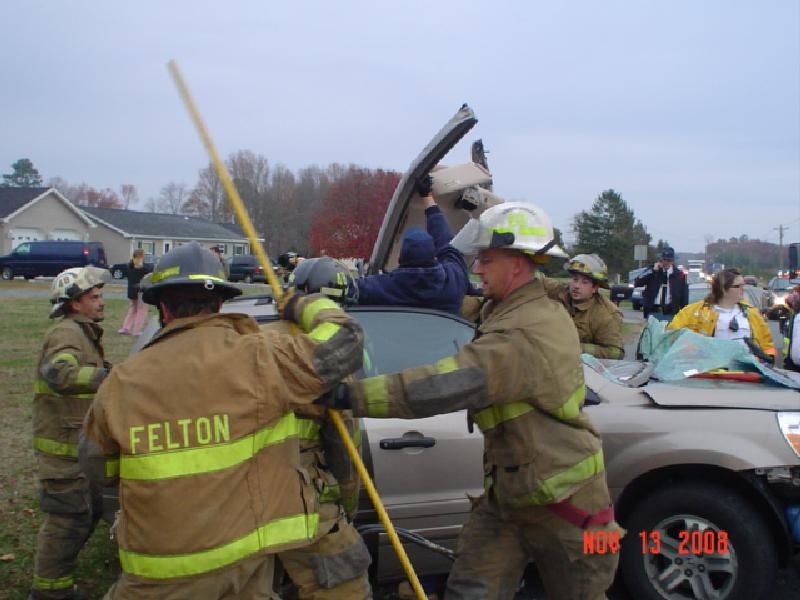 11/13/2008 – At 0731 hours on Thursday, November 13, 2008 Kent County E.O.C. alerted Station 48 (Felton, DE), Medic 68, Medic 65, and Trooper 2 to a reported MVC with entrapment on Willow Grove Road in the area of Sandtown Road.
B-48 arrived on scene to find a single vehicle off the roadway with significant damage to the front of the vehicle. The EMS crew confirmed entrapment of one priority 1 patient. It appears that the vehicle and a dump truck were involved in the collision.
The crew from Rescue – Engine 48-1 arrived on scene and began extrication on the vehicle under the command of Assistant Chief Randy Thompson. From the time of arrival on scene, it took crews just a few minutes to complete the extrication.
The pt. was transported to KGH ER as a priority 1 trauma alert.
Units on scene: Rescue – Engine 48-1, B-48, Engine 48-3, Medic 68, Medic 65, Trooper 2, DSP, 48- Fire Police, and DSP FAIR Team.
Photos By: James Harrison