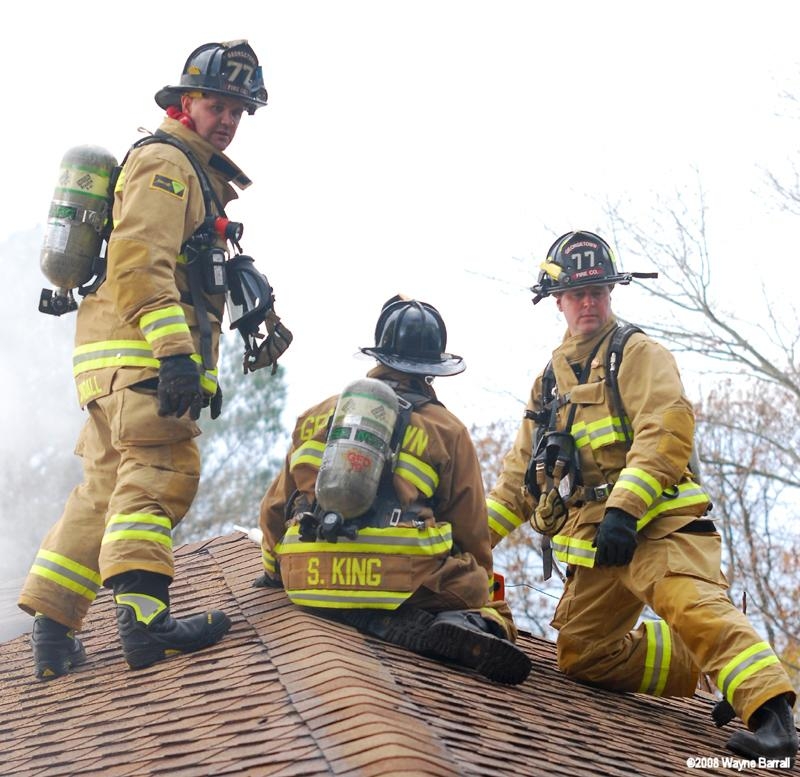 11/16/2008 – On the afternoon of November 16th the Blades, Seaford and Laurel Fire Departments were dispatched for a Structure Fire on Sussex Highway across from Lake View Trailer Park. Asst. Chief Ray Hastings (71-17) was in the area and arrived first in POV. He reported a working alarm with heavy fire showing.
Chief Earl Chaffinch responded in 71 command and arrived on scene, and assumed command of the incident. E/T 71-2 with Asst. Chief Bryan Callaway (71-18) arrived and initiated an interior attack through the front door with his crew. E/T 87-9 arrived with Chief Tom Lecates and was advised by Command to drop a 5 inch line and supply E/T 71-2. Command advised Lecates to take interior operations.
Seaford Firefighters placed a back-up hose-line in service and entered the structure.
E71-5 & Rescue 71 arrived and their crews assisted with additional hose-lines, and backing up interior crews.
Chief Chaffinch (71 Command) contacted Sussex Dispatch to alert Bridgeville (72) to the scene and Georgetown (77) for a stand-by.
E/T 81-5 and 81-4 arrived and crews were also sent to assist on interior operations. While firefighters were making an aggressive fire attack, suppression was slightly halted with a partial roof collapse. E81-3 arrived along with E72-1 there crews assisted in overhaul, E77-2 was diverted to the scene to also assist on overhaul.
With heavy fire throughout the structure when the first unit arrived, Firefighters were unable to save the home.
Chief Chaffinch placed the incident under control in about 1 hour with units working on extensive overhaul. Fire Marshals were on scene investigating the cause, while Command was releasing units. The Red Cross was called into assist the family members.
Units on Scene: Command 71, E/T 71-2, E71-5, Rescue 71, A-71, E/T 87-9, E87-5, E/T 81-5, E81-4, E81-3, E72-1, Tanker 72, E77-2, SCEMS 102, FM Unit, DSFP.
Units providing Cover-ups: Sharptown E1404, Federalsburg E 102.
Story by Dwayne Chaffinch of LFD
Photographs by : Wayne Barrall