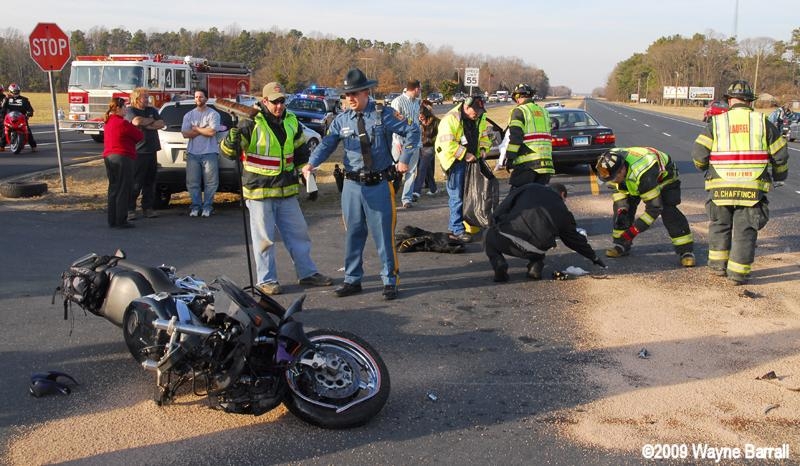 2/2/2009 – Station 81 Laurel, Medic 102 and DSP Trooper-2 were alerted for an accident with injuries on Rt.13 & Whitesville Rd south of Laurel. Medic 102 arrived on scene first to find a motorcycle on its side in the highway. CPR was being performed on the driver of the motorcycle by witnesses of the accident. 81 Command arrived and established Rt.13 Command. EMS crews advised Command that the patient would be going to PRMC in Salisbury Md by ambulance and that he could cancel Trooper-2. Rescue 81 & Engine 81 arrived and their crews went to work assisting EMS with patient care, cleaning fluids off the roadway.
The Delaware State Police is investigating the cause of the accident. The driver of the vehicle that struck the motorcycle fled the scene after striking him.
Official Maryland State Police Press Release
DATE & TIME: 02/02/09 @ 1650 hours C C. CARD NUMBER: 0954001125
INCIDENT Assist Delaware State Police – Homicide By Motor Vehicle
BRIEF RESUME:
. On the above date and time, MSP Salisbury Barrack was contacted by Delaware State Police Troop 5 reference assisting with a fatal motor vehicle collision investigation. The Delaware State Police stated that the collision occurred on Northbound US RT 13 in the area of Whitesville Road Laurel, De. Delaware State Police advised that a two toned Chevrolet truck fled the scene and that a witness followed it to 7037 Parsonsburg Road Parsonsburg, Wicomico Co, Md. where the driver drove it to the rear of the residence and covered it with a tarp. Maryland State Police Troopers, Wicomico County Sheriffs Department Deputies and an investigator with the Wicomico County Bureau of Investigations responded to the residence. Mr. Davis Ruark State's Attorney for Wicomico also responded to the scene. Investigation and statements obtained revealed that the driver was Justin Wayne Mitchell; 25 y.o. male from Salisbury. An intensive search was initiated, utilizing aviation and K-9 in the attempt to locate Mitchell. Shortly thereafter, Mitchell turned himself in at the MSP-Salisbury where he was interviewed and charged with the below traffic charges in Maryland. Mitchell was then taken to the Wicomico County Detention Center awaiting to be seen by a District Court Commissioner. Delaware State Police Investigators are in the process of obtaining a warrant against Mitchell for vehicular homicide.
Maryland Charges: Driving on a suspended license, driving revoked, driving an unregistered motor vehicle, driving an uninsured vehicle and driving without a license.
Photographs by : Wayne Barrall