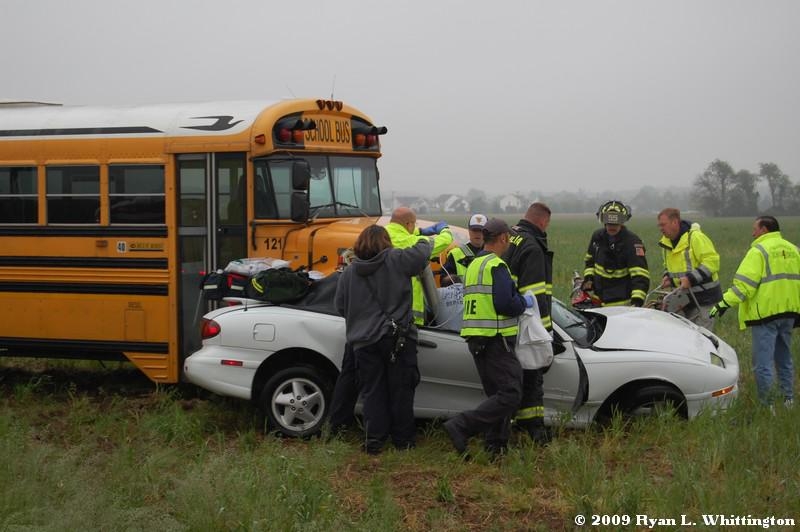 5/5/2009 – On May 05, 2009 at 0702 hours, Kent E.O.C alerted Station 55 (Magnolia) for a reported MVC at the intersection of Peachtree Run and Irish Hill Road. Deputy Fire Chief Kevin Sipple responded to the scene and confirmed an MVC involving a school bus and a subject trapped. Deputy Sipple established 55-Command and requested an additional rescue out of Station 48.
Ambulance A-55 arrived on scene and began patient care on the priority one patient in the white vehicle. Command instructed ambulance A-48 to begin triaging the two patients on the school bus. Engine 55-4 arrived on scene and began stabilizing the vehicle and prepared the tools for extrication. Rescue / Engine 48-1 responded, arrived on scene, pulled off several tools and began assisting Magnolia's Rescue Crew with extrication.
It took crews approximately 20 minutes to extricate the patient from the vehicle. Crews had to cut metal away from the patient and displace the dash. One priority one patient was transported to Kent General Hospital in Dover via ground. All aviation was down due to weather.
Units Responding: Deputy 55 (Sipple), Ambulances A-55, A-48, Engine 55-4, Rescue 55, Rescue / Engine 48-1, Command 48, Kent Medics 5, 9, 8, 624, DENREC 3, DSP, Fire Police, State Highway.
Photographs by : Ryan Whittington