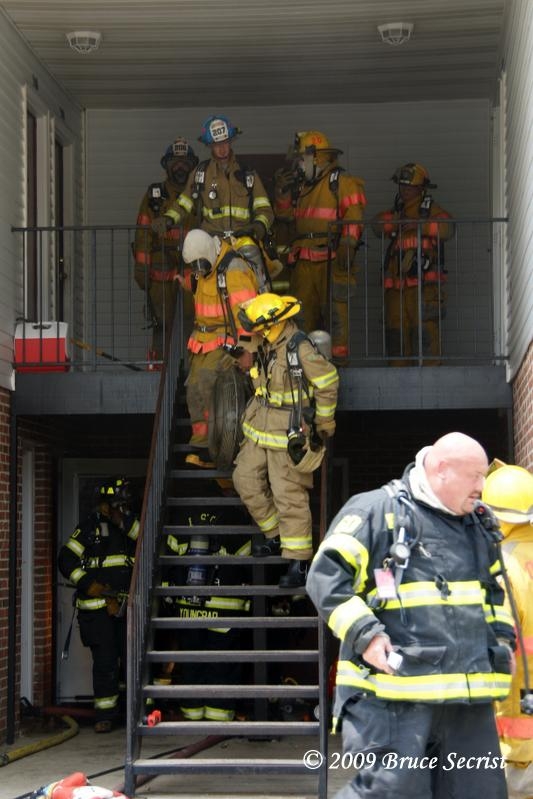 6/3/2009 – At approximately 12:20 PM Talbot Center dispatched Station 60 (Easton), Station 20 (Oxford) and Paramedic 96 for a building fire at 406 Moton Street. Chief 60 (C.R. Chance) went responding and was advised of a working fire with possible entrapment. Upon arrival Chief 60 established command, reported smoke showing and confirmed entrapment.
Engine 63 arrived on location and the crew forced entry into the apartment and began fire suppression and search/rescue. After several minutes the crew located the victim and exited the apartment so the EMS crew could take over. The victim was transported to Memorial Hospital where she succumed to her injuries. A short time later overhaul and clean up began.
The situation was placed under control at 1:30 PM with all units being released with the exception of Chief 60 and Engine 63. The fire is being investigated by the State Fire Marshall's Office and the Easton Police Dept.
Units on scene: Chief 60, Engine 63, Engine 68, Rescue 61, Tower 61, Ambulance 61, Engine 27, Tower 23, Paramedic 90, 93 and 96, EMS-1, EMS-2, Fire Marshall's Office and Easton Police Dept.
Photographs by : Bruce Secrist