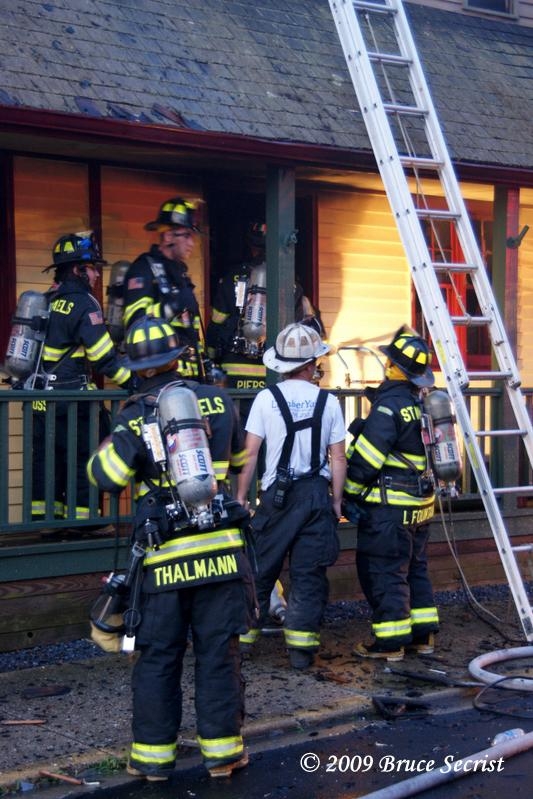 6/26/2009 – June 26, 2009 – At approximately 4:25 AM Talbot Center dispatched Station 40 (St. Michaels), Station 60 (Easton) and Station 70 (Tilghman) for a working building fire at 116 N. Talbot Street.
Paramedic 94 was the first to arrive on location and reported fire showing. Upon the arrival of Engine 49, Officer 402 (P. Jones) advised Talbot Center it was a two story, wood frame structure with heavy fire showing. Soon thereafter Chief 40 (Officer 401 – J.D. Patrick) arrived, established "Talbot Street" command and requested a 2nd alarm. Engine 48 laid a line to supplied Truck 40 and Engine 49, while Engine 77 supplied Tower 61. The crews were able to make a quick attack on the fire but it still left them with an extensive overhaul. Units operated on the scene for approximately 3 ½ hours.
One occupant from the building was transported to Memorial Hospital at Easton by Paramedic 94 with an ankle injury and burns to the arm. The cause of the fire is being investigated by the State Fire Marshall's Office.
Talbot Street was closed for the duration of the call.
Units on scene: Chief 40, Truck 40, Engine 49, Engine 48, Brush 47, Rescue 61, Tower 61, Engine 77, Engine 54, Engine 27, Paramedic 94, Paramedic 96, Talbot Sheriff Dept., State Fire Marshall, Maryland State Police and State Highway
Photographs by : Bruce Secrist