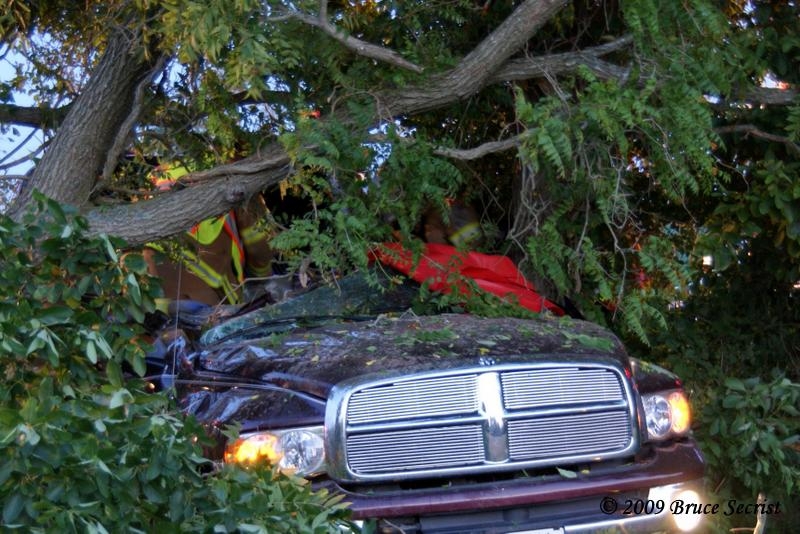 6/27/2009 – At approximately 8:30 PM Queen Anne's County dispatched Talbot County Station 80 (Queen Anne-Hillsboro), Station 50 (Cordova) and Queen Anne's County Station 4 (Goodwill) for a MVC reported serious with entrapment on Damsontown Rd. in the area of Greenville Rd.
Chief 80 (C. McNeal) arrived on location to find one pickup into the trees and confirmed entrapment. Officer 802 (C. McNeal) established command and requested aviation. Upon the arrival of engine 51, Officer 501 (M. Secrist) was assigned to LZ command. After 9 minutes the crews from Rescue 84 and Engine 85 had the extrication complete and the patient was transported to Paramedic 100 and packaged for Trooper 6.
One patient was transported to the University of Maryland Shock Trauma Center in critical condition, where he succumed to his injuries. The situation was placed under control and all units cleared the scene at approximately 10:10 PM. The accident is under investigation by the Maryland State Police.
Units on scene: Chief 80, Rescue 84, Engine 85, Ambulance 81, Engine 51, Paramedic 50, Rescue 4, Paramedic 4, Special Unit 49, Paramedic 100, EMS-3, Trooper 6, Maryland State Police and Queen Anne's County Sheriff Dept.
Photographs by : Bruce Secrist