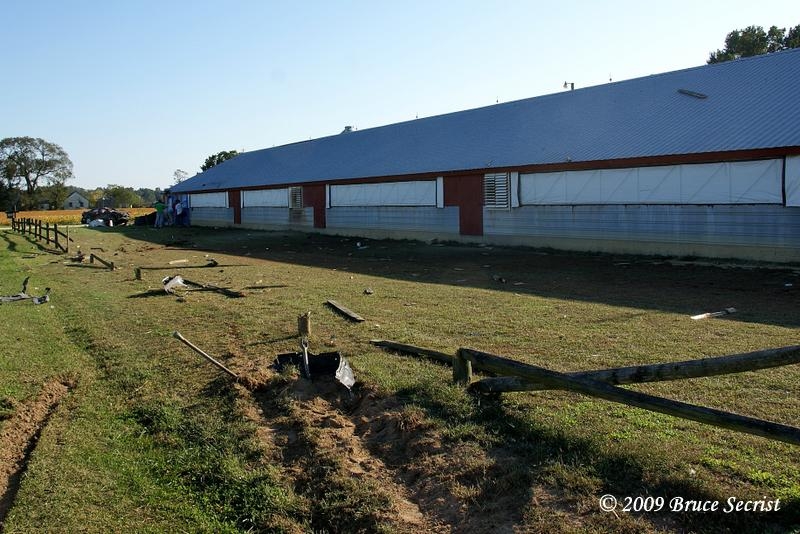 10/9/2009 – At approximately 3:00 PM Caroline County dispatched Station 100 (Federalsburg) for a MVC with rollover and several ejections on Laurel Grove Road in the area of Pepper Road.
Units arrived to find one vehicle that had rolled several times taking out guide wires, a fence and part of a chicken house wall before coming to a stop right side up. Officer 120 (E. Coulbourn) established "Laurel Grove Road" command.
Command advised Caroline that Aviation would be needed to transport two priority 1, category A patients and additional medic units were requested. At least two of the four occupants were ejected. One patient was transported to Memorial Hospital at Easton with minor injuries and one was transported to Nanticoke Hospital in critical conditional. The other two patients were transported to PRMC by Maryland Trooper 7 and a Delaware Trooper.
The accident is being investigated by the Maryland State Police.
Units on scene: Rescue 100, Engine 102, Engine 101, Ambulance 109, Engine 203, Paramedic 392, Paramedic 12, Dorchester Co. Paramedic 200 and 600, Trooper 7, Delaware Trooper, Caroline Co. Sheriff Dept and Maryland State Police
Photographs by : Bruce Secrist