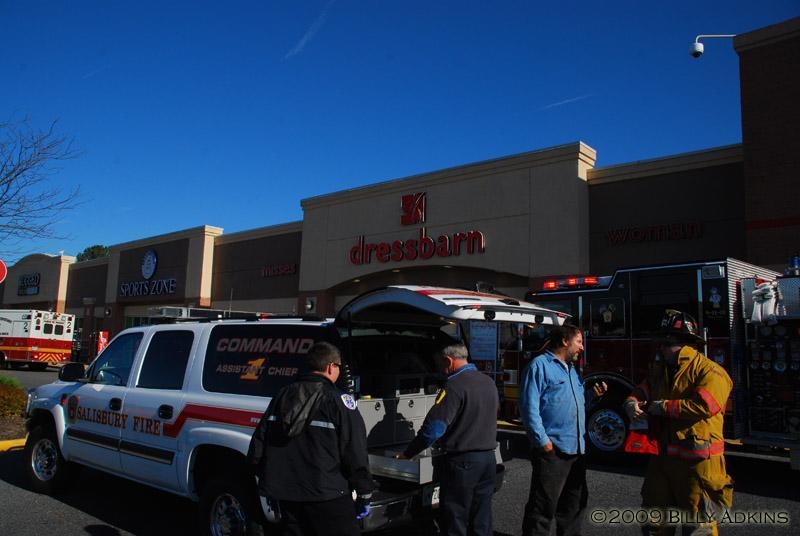 11/28/2009 – Around 12:30 PM Wicomico Central alerted Salisbury Station 2 of a possible Haz-Mat incident at the Dress Barn, Assistant Chief 1, along with Engine 2, and Paramedic 2 responded. At the time of the alert, one patient was experiencing headaches, The Dress Barn was advised to evacuate, and another ambulance was requested, Paramedic 1 responded. Upon arrival and investigation, an unknown liquid substance was found. At that time command requested a Haz-Mat Response. Emergency Management, Station 74 Delmar and Station 16 Salisbury were alerted to assist. Station 74 responded with the Haz-Mat Decon Trailer, Engine Tanker 74, Rescue 74 and Paramedic 74, while Station 16 responded with Engine 16, Haz-Mat 1, and Paramedic 16. During the investigation of the substance, it was determined that the substance was coming from the wall between The Dress Barn and Target. Investigators then entered target and discovered that the substance was within the wall and as a precaution, Target was evacuated. After crews were able to test the substance, it was determined to not be harmful, and at approximately 14:00 Target and The Dress Barn were able to re-open.
Units on Scene: Assistant Chief 1, Paramedic 1, Paramedic 2, Paramedic 16, Paramedic B74, Engine 2, Engine 16, Engine Tanker 74, Rescue 74, Brush 74 with Decon Trailer, Haz-Mat 1, Emergency Management 4
Hopefully I did not miss much, or mess up the details, If you see something I did miss, please shoot me a email and let me know, and I will get it changed. There was a lot going on, so it was kinda hard to keep track.
Photographs by : Billy Adkins