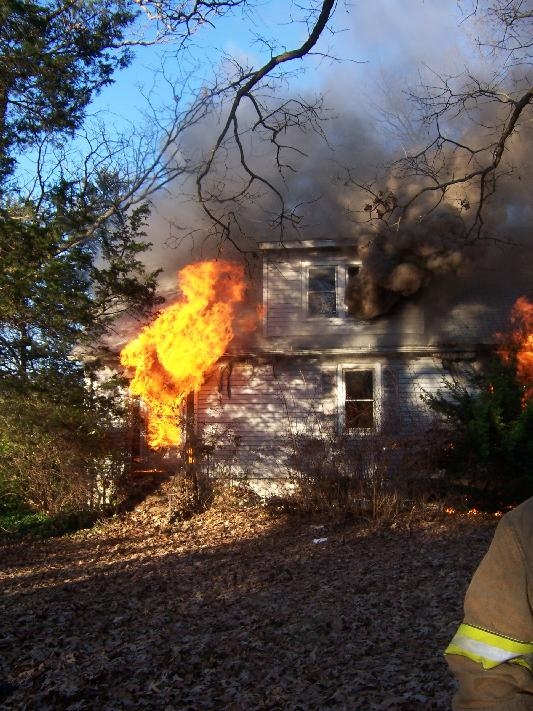 12/10/2009 – At 1519, Camden-Wyoming Fire Company was alerted for a working house fire at the corner of S DuPont Highway and Asbury Avenue. Ambulance B48 was returning from the hospital and notified Kent Center of the fire. B-48 advised fire from side Alpha on division 1 & 2.
Command 41 with Fire Captain Chris Dufresne arrived on scene and established command. He immediately requested an engine out of 55 (Magnolia) and a cover up from 54 (Little Creek). Engine 41-1 arrived and stretched two 1 ¾ handlines and started an attack.
Engine 41-3 laid into the hydrant and established a water supply. Conditions started to deteriorate and command ordered an evacuation of the structure just as a flashover occurred. Kent Center then sounded the evacuation tones and Engines sound the air horns. Command then requested engine 54 to the scene and had 46 (Dover) handle the cover-up.
Crews then made a defensive attack until the bulk of the fire was knocked down. Command placed the situation under control at 1623 with all hands working.
At the time of this story, crews are still on scene performing extensive overhaul. Three firefighters were transported to the hospital for minor burns. The cause is under investigation by the State Fire Marshall's office.
Units on scene-Command 41, Engines 41-1, 41-3, 54-2, 55-4, Rescue 41-6, Tanker 41-5, Ambulances B48, A41, A63, Paramedic KM-9, FM 12, FM 28, Camden PD, DSFP
Photos By: Ryan L. Whittington
More to follow
Story by John Wothers
Video By: Ryan L. Whittington