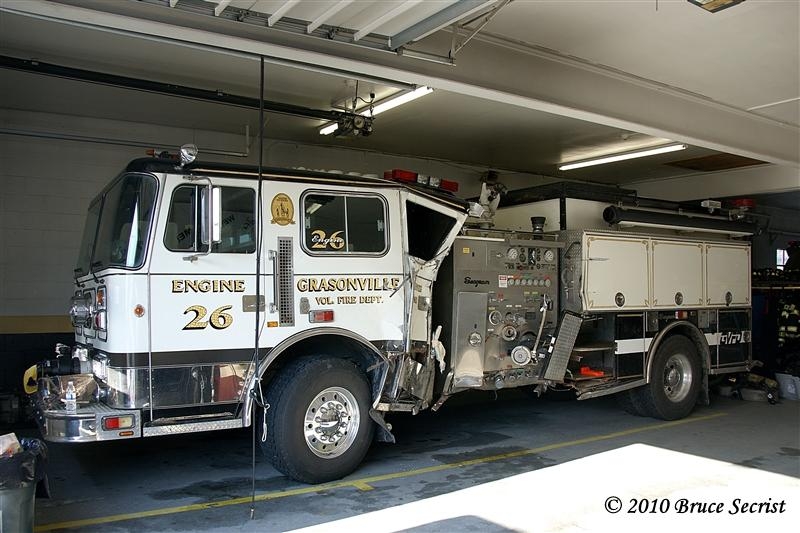 1/11/2010 – Monday night at approximately 10:15 PM Queen Anne's County Station 2 (Grasonville) was dispatched for an MVC with injuries on Route 50 at the Kent Narrows Bridge. The road conditions were starting to diminish due to a light snow fall on the shore. Engine 26 had arrived on location and was blocking two lanes of traffic to ensure a safe scene while the crew assisted with the accident. All was well until the crew was back in the Engine and waiting to return to the station.
A tractor and trailer was headed west bound and apparently did not see all of the BRIGHT FLASHING LIGHTS and side swiped Engine 26. With a crew of 6 on board, 4 of them were transported to Anne Arundel Medical Center in Annapolis where they were treated and released.
From now on when you see an emergency scene, please try to remember this incident and slow your vehicle down and pay attention to what is in front of you instead of the accident you are passing.
Firefighters and EMS personnel, whether they are paid or volunteer, risk their lives every day on the highway trying to help others in need. Our job is dangerous enough without having to worry about getting hit by a negligent driver. We are just as busy as everyone else; we all have families that we would like to return home safely to, but we take time out of our day to help someone in need.
THANK YOU for doing your part to keep us safe while we keep you safe.
Chief Anthony and the members of the Grasonville Vol. Fire Dept. would like to thank their brother firefighters and the community for the support, thoughts and prayers in their time of need.
Photographs by : Bruce Secrist