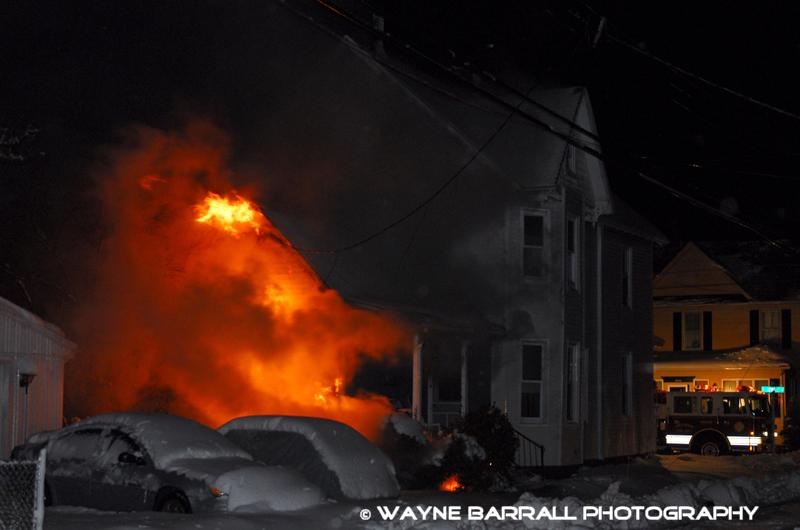 2/6/2010 – At 4am on Feb 6 2010 while a blizzard was pounding the Eastern Shore the Delmar Fire Department was running alarm after alarm. Crews were responding to calls ranging from ambulance calls to trees and wires down. While returning from a wires down call, crews noticed a large blue and white flash that lit the sky up for about 10 seconds.
74 Command (A. Rementer) went to the area to investigate the cause. Command arrived at #8 East Jewell St to find wires arcing at the rear of the structure. The power surge caused the transformer / power cut-outs to come off the utility power and land in the rear of the structure causing it to catch fire. 74 Command up graded the alarm to a working structure fire.
Engine 74-1 arrived and laid 5inch supply line down the block from the hydrant to the scene. Truck 74 arrived and positioned in front of the structure and its crew began to prepare for ventilation and aerial operations. Due to the Town of Delmar Public Works Division doing upgrades to the town's water system, they only had one of the three town's pumps in operation. Several additional tankers were requested to the scene. Tower 81 set up behind Truck 74 and started to work on side B of the structure. Salisbury Truck 2 set up to the rear of the structure. Crews worked for about 25 minutes until the structure was deemed unsafe and the evacuation tones were ordered and everything went to a defensive mode.
Crews worked on scene for about 4 hours in 20 degree temps and heavy snow conditions. The Town of Delmar was without power for most of the day. The American Red Cross was called in to assist the family with housing.
Responding departments were Sta.74 Delmar, Sta.2 Salisbury, Sta.81 Laurel, Sta.5 Hebron, Sta.79 Gumboro and Sta.14 Sharptown.
Photographs by : Wayne Barrall