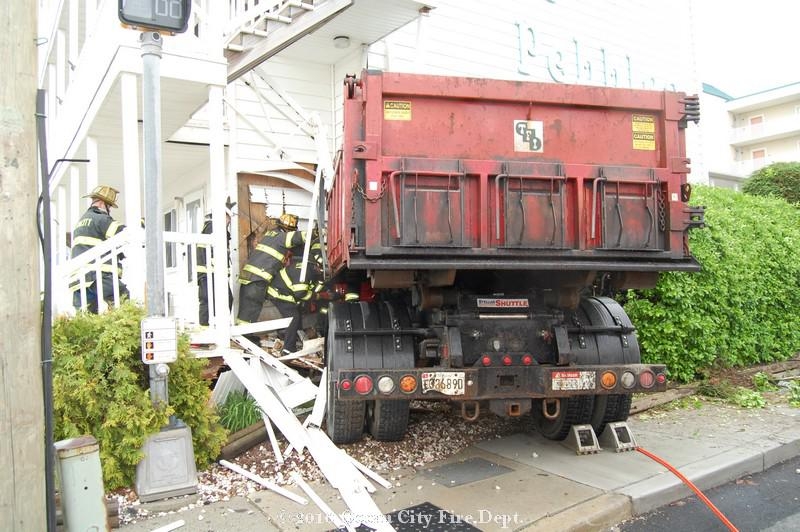 4/27/2010 – On the morning of Tuesday, April 27, 2010, the Ocean City Fire Department responded to the intersection of 65th Street and Coastal Highway for a motor vehicle accident.
Assistant Chief Chris Shaffer arrived on the scene to find a dump truck crashed into the Sand Pebble Condominium with one victim trapped, and another mid-size vehicle in the middle of Coastal Highway with significant rear end damage.
The first arriving engine crew used rescue tools to begin extraction and patient care. Rescue crews were required to remove the roof of the truck; cut the steering wheel; and open other portions of the vehicle. Crews worked for about 30 minutes to free the trapped driver.
Upon extrication, the driver was transported as a high priority patient to PRMC in Salisbury, MD. The driver of the other vehicle refused treatment.
Ocean City Building Inspectors were on the scene to determine the stability of the structure.
Units Responding: Chief 1, Chief 40, Chief 41, Chief 51, Chief 53, Engine 16, Engine 3, Rescue 18, Rescue 7, Paramedic 1-1, Paramedic 4, Utility 14, Utility 29, OCPD, and OC Building Inspectors.
Story & Photo's By: Ryan L. Whittington, OCFD PIO
Photographs by : Ryan Whittington